Short Sunderland- The flying porcupine
One of the most outstanding British seaplanes during the Second World War was the Short Sunderland flying boat. It was a heavily armed long-range naval patrol flying boat that earned its reputation as a 'the flying porcupine' as it was called by the Germans…….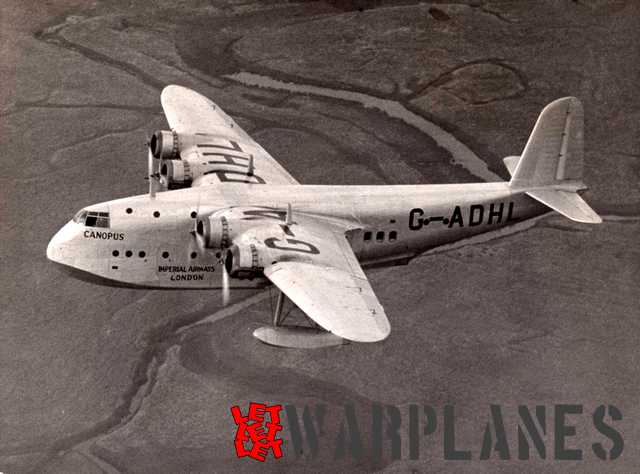 Development and early testing: On 4 July 1936 the first of the civil Short S.23 C-Class flying boats made its first flight. In total 39 of these flying boats were built for Imperial Airways and Quantas. These all-metal flying boats were at that time masterpieces of aeronautical engineering and offered fast transcontinental air travel. Passenger transport by plane as we know it today was far from imminent those days and only The Rich could afford this type of exotic travel. However, it was advertised as the most luxury means of fast transport and that was definitely not exaggerated! With the political situation already changing it was soon evident a military version would follow soon for long-range ocean patrol missions.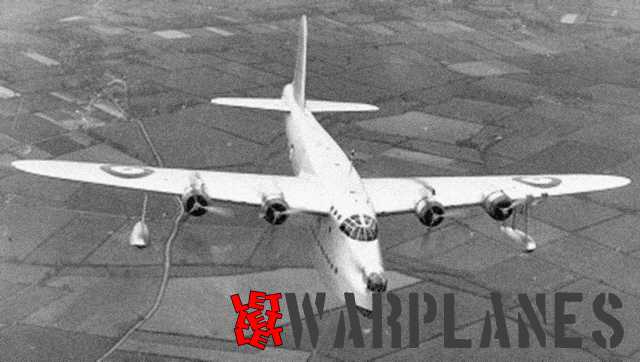 In fact this militarised version of the civil flying boat flew little than a year later, in October 1937. It was Short's answer on the naval Specification R.2/33 which called for a 4-engined monoplane to succeed earlier biplane types like the Short Singapore. Short was not the only company in the race for the new Spec. R.2/33 flying boat. Also Saunders Roe built a prototype for evaluation as the A.33. However, the A.33 had serious structural problems during the evaluation trials and the Short flying boat, known as the S.25, was a clear winner.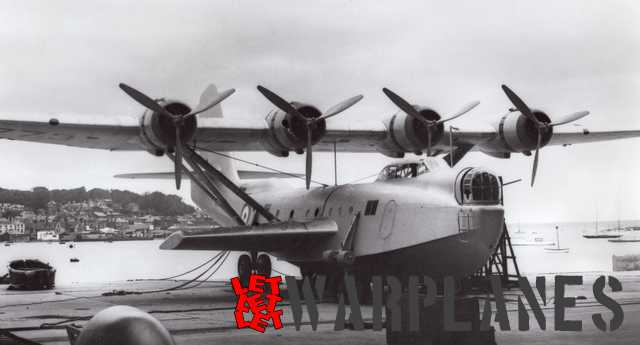 The S.25 prototype, with R.A.F. serial K4774, made its first flight on 14 October 1938 with John Parker as pilot, Harold Piper as co-pilot and George Cotton as flight engineer. The first flight lasted 55 minutes and was followed the same day with a second flight of the same duration. The name selected for the new military flying boat was 'Sunderland'. It was powered by four 950 hp Bristol Pegasus X nine-cylinder radial engines. After its first test flights its wings were adapted to give a slight sweep back and more powerful Pegasus XXII of 1010 hp were fitted before it was handed over for service evaluation trials.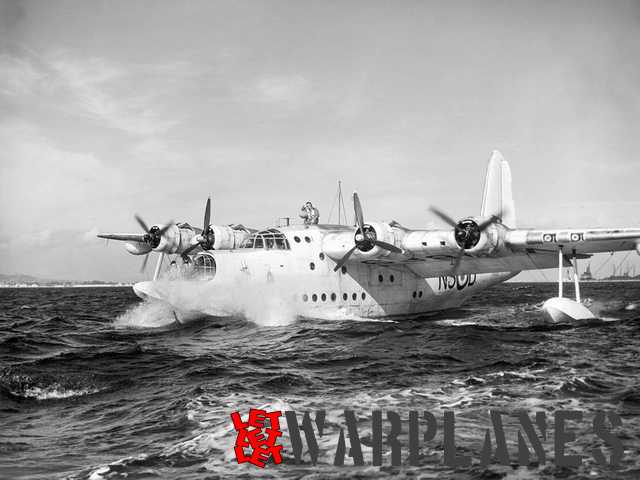 In spite of the fact the prototype was in October 1938 damaged during high-speed taxiing on the Solent river, a first order was placed for 11 Mk.I Sunderlands (with R.A.F. serial nos. L2158-L2168). They were delivered between April and August 1938. They were followed by another 53 Mk.I's, the last one being delivered in March 1941. The Sunderland was much more than just a military version of the S.23 C-Class flying boat. The whole fuselage had to be extensively modified  with the cockpit section (or 'Bridge' as it was called in true navy tradition) placed backwards to make room for  a nose gun turret installation. A second turret was placed in the tail. On the dorsal part of the fuselage (undoubtedly called 'The Deck' in navy terms!) there were two removable small hatches providing room for two additional board guns. The first operational Sunderland, no. L2158, made its first flight on 21 April 1938. It was followed by L2159 on the same day and together with the prototype K4774 they were tested at Felixstowe for operational suitability. All went quite well and L2159 set in the late spring of 1938 an impressive performance by flying from Pembroke Docks in the U.K. to Singapore. Pembroke Docks-Gibraltar, 2012 km, was flown in 8 hours. The flight was continued to Malta, Alexandria, Habbaniyah, Bahrein, Karachi, Gwalor, Calcutta, Rangoon and Mergui to end at Seletar (Singapore) to be handed over to No. 230 Squadron in exchange for an old Singapore III flying boat that was ferried back to Britain. More Mk.I Sunderlands soon found their way to the various R.A.F. squadrons for long range maritime patrol missions. It could stay airborne as long as 14 hours with a crew of ten. At that time, well before the outbreak of the Second World War the Sunderland was the largest operational military flying boat in the world! Armed with in total seven riffle-calibre machine guns and with 900 kg of bombs or depth charges it was not only used for defensive patrol and search-and rescue missions at sea, but later also as an active U-boat hunter. Later versions would be armed with additional machine guns. Although the interior of the Sunderland was very roomy with more than enough space for its crew including a sleeping place, kitchen and water closet the whole interior was quite basic without much further luxury. In general the Sunderland had an excellent service record with a good reliability. It was sturdy, easy to fly, easy to maintain and liked by its crews.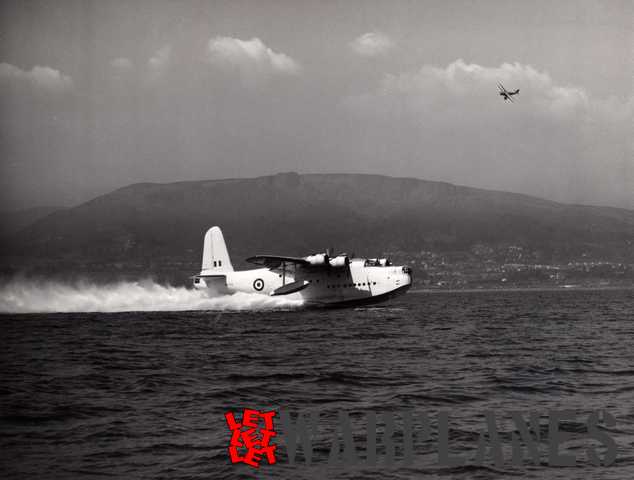 Versions: After the introduction of the Mk. I, an improved Mk. II soon followed with the first one supplied in November 1941. Although it had the Pegasus XVIII engines rated at only 965 hp, this engine was fitted with a two-speed supercharger giving it the possibility to start with a higher all-up weight. Also new was the replacement of the dorsal double hatches with the open gun positions for a closed gun turret with more ammunition. The single gun in the nose turret was replaced by a double gun. The Mk. II was built until December 1942 at a total number of 66.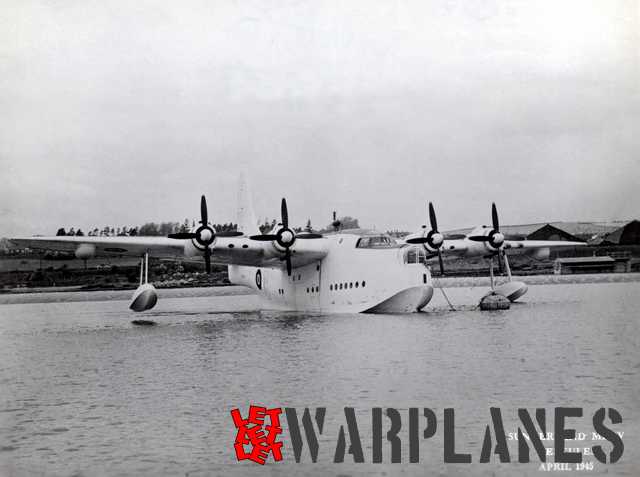 The Mk. III was introduced in August 1942. It had a faired main step to improve speed and range. Although the armament remained unchanged a number of Mk. III's were fitted with an additional four fixed 12.7 mm machine guns in the front fuselage that could be operated by the pilot. It was a typical and effective counter-measure for the U-boat anti-aircraft guns of 20 and 37 mm. In practice these guns proved to be very effective during direct U-boat gun attacks to 'clear the deck' of the enemy vessel!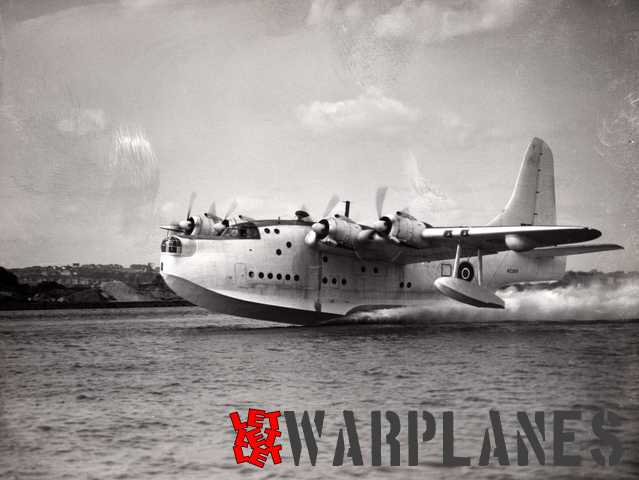 Some Mk. III's were fitted with an A.S.V. Mk. II (Air-to Surface-Vessel) radar equipment for U-boat detection. These Sunderlands all carried the characteristic 4-mast array at the rear of the top fuselage. Many Mk. III's were later converted to Mk. V standard including an engine change to the R-1830 Twin Wasp.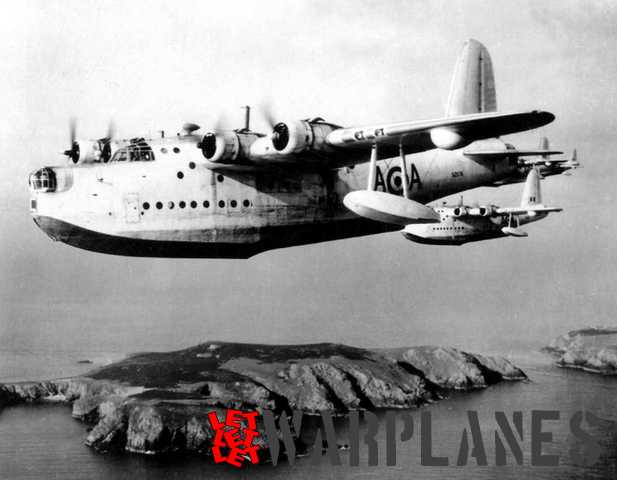 The Sunderland Mk. IV was so extensively changed that it received a new type designation as Short S.45 and even a new name: the Seaford. The prototypes MZ269 and MZ271 flew by the end of the war, fitted with much more powerful Bristol Hercules XIX  engines of  1750 hp each. Externally it also differed from the Sunderland by a much larger vertical tail including an extra fillet. It was only built in small numbers and only 8 of the 30 production models were actually delivered after the war. However, a number were converted as commercial flying boats for B.O.A.C. as the Short Solent.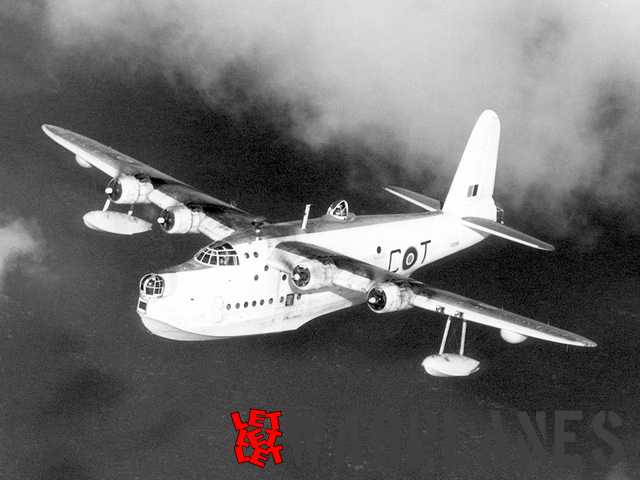 The last Sunderland manufactured was the Mk. V. Structurally it was not much different from the earlier versions. However, because the Pegasus engines were most of the time used at full operational power, engine wear was considerable. To improve this a new type of engine was selected that was more durable and reliable at full operational power: the U.S. Pratt & Whitney R-1830-90B  Twin Wasp with a power output of 1200 hp.  Not all Mk. V's were fitted with the dorsal turret; at a number of machines the turret was replaced by the original double hatch. Some dozens of earlier Mk. III's were later retrofitted with Twin Wasps as the Mk. V. An A.S.V. Mk.IV or VI double radar antenna  was carried as standard equipment in two streamlined fairings under the outer wings. This device was also retro-fitted on some Mk. III Sunderlands.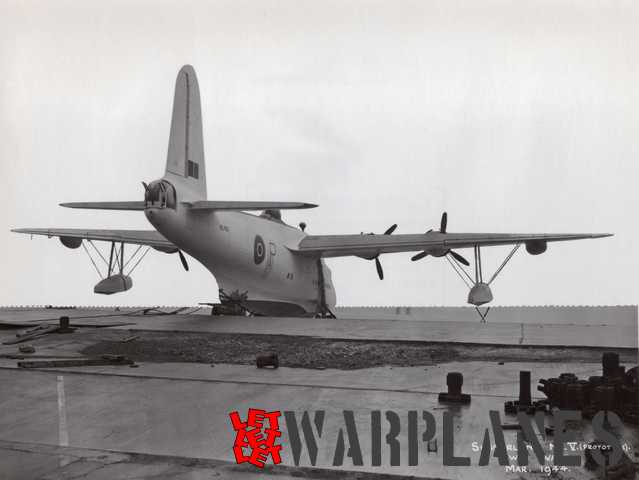 Into operational service: At the outbreak of the Second World War a few dozens of Sunderland had already found their way to the Coastal Command. No. 210 Sq based at Pembroke Dock and No. 230 Sq at Singapore were the first squadrons where the Sunderland was operational. More operational squadrons soon followed. Earlier the Sunderland had already made headlines in the newspapers when on 21 September 1939 two aircraft of Nos. 204 and 228 Sq. rescued the entire crew of the torpedoed merchant ship Kensington Court. In fact this was the first rescue mission of its kind in history!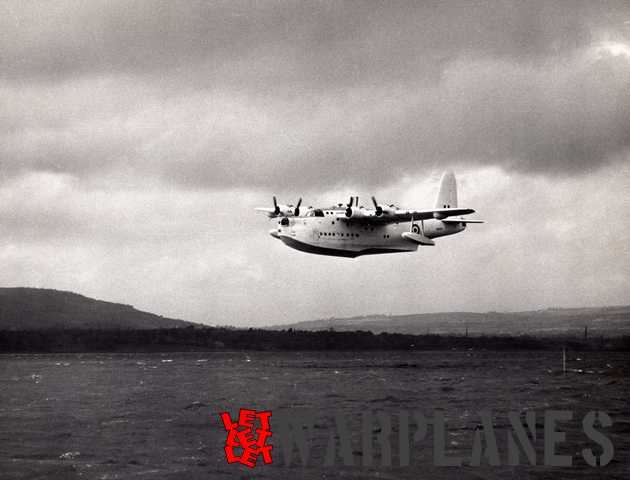 During the first months of the war Sunderlands were progressively introduced to replace older biplane flying boats like the Singapore. Loaded with bombs and depth charges it soon became extensively involved in various war theatres as an active U-boat searcher and destroyer and it was deployed over the whole WW-II period. Sunderlands scored quite a lot of U-boat kills.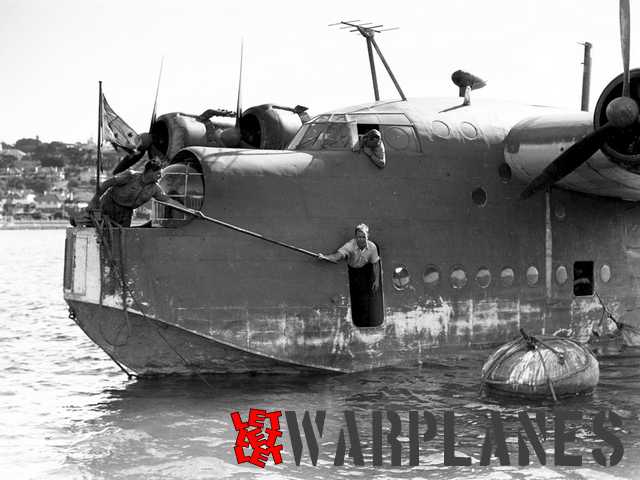 Over the period 1940-1944  Sunderlands damaged or sank not less than 43 German U-boats and another 12 from the Italian navy. Sunderlands fought out direct gun battles with enemy submarines at the cost of ten Sunderlands being shot down by heavily armed U-boats. With its heavy defensive armament these was far from helpless when attacked by enemy planes.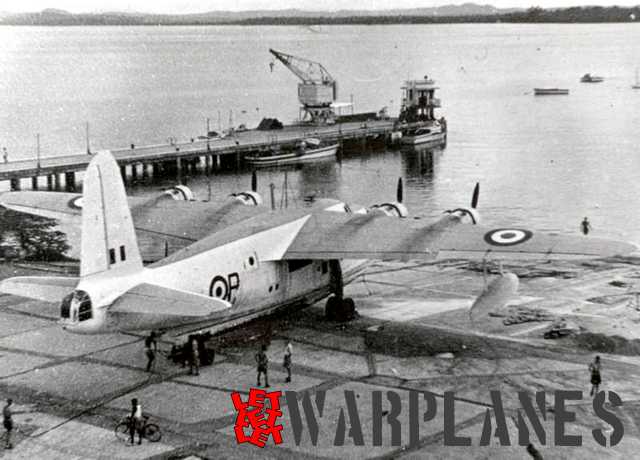 The Sunderland earned its German nickname 'das fliegende Stachelschwein' (the flying porcupine) not without good reasons. One Sunderland was attacked by six Ju-88's in April 1940 when escorting ships during the Norwegian campaign. It managed in shooting down one, damaging another and fighting off the rest. However, this was not the only encounter with German aircraft. Also an Arado Ar-196, a Macchi MC.200, a Bf-110 and some more Ju-88's were claimed by Sunderland gun crews. On another occasion in North Africa a Sunderland was attacked by four Curtiss Mohawk (!) fighters from the French Vichy air force. Although in a number of cases Vichy pilots refused to shoot at Allied planes, this group was a little bit more aggressive. The Sunderland was hit many times and some crew members were wounded but they managed to shoot down two, damage another and return home safely. Normal tactic for a Sunderland pilot when attacked by enemy fighters was to descend to water-level to protect the vulnerable hull from being riddled with holes and fight it out. Sunderlands with damaged hulls set their planes at some occasions on a beach after aligning in the water. At one occasion a Sunderland pilot even landed on land to prevent sinking of his battle-damaged plane. When the war was ended, it was not yet the end of the operational life of the Sunderland. They were even used during the Korean War and were finally phased out in 1961 when they were replaced by the Avro Shackleton.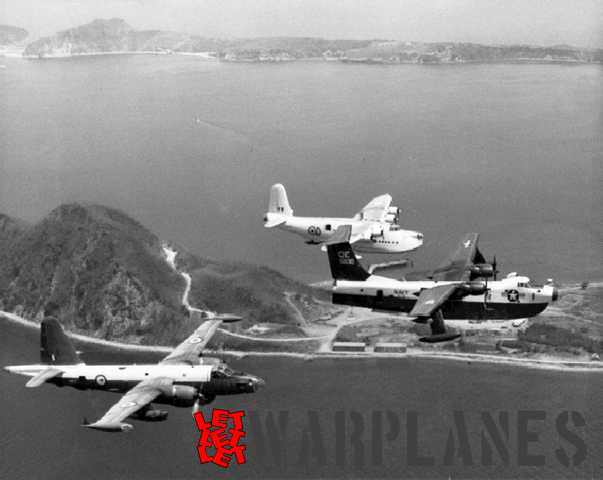 The Sunderland was the last R.A.F. flying boat to be operational. Already in 1940 work was started on a successor of the Sunderland as the S.35 Shetland. Being some 50% larger than the Sunderland it made its first flight on 14 December 1944, but only two prototypes were built; DX166 and DX171. Although one Shetland flew with civil markings as G-AGVD, airlines were not interested and both prototypes were finally scrapped.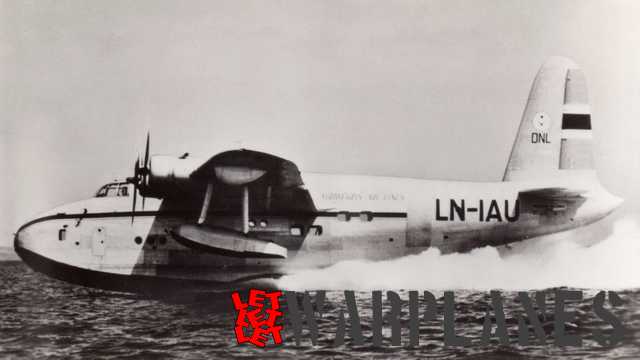 Foreign users: RAAF The Royal Australian Air Force received already in September 1939 its first Sunderland Mk. I, to be followed by another 17. These were followed by 11 Mk. II's and 44 Mk. III's. Final shipment of 12 Mk. V's followed in 1944-1945. They all served at No. 10 Squadron based at Point Cook and were actively used in the war against Japan. Another RAAF squadron, No. 40 Sq based at Townsville, used six Mk. III's over the period 1944-1946. RAAF Sq. no. 461 operated with Sunderlands of all four types from the U.K. within the European War Theatre over the period 1942-1945.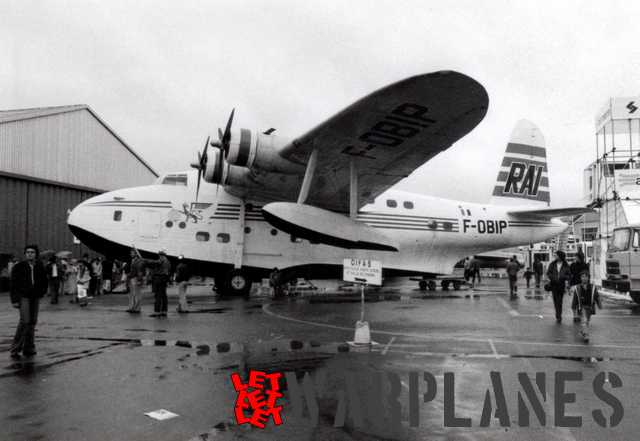 RNZAF The Royal New Zealand Air Force started to use the Sunderland in  1943. Three squadrons, Nos. 5, 6 and 490 flew in total with 36 Sunderlands Mk. II and Mk. V. After the war their operational use was continued until 1967 when they were replaced by the Lockheed Neptune.. RCAF The Royal Canadian Air Force used the Sunderland over the wartime period 1942-1945 in the European War Theatre with two U.K. based squadrons, Nos. 422 and 423. Sq 422 operated with 52 Sunderland Mk. III's; Sq.423 had on its inventory 6 Mk. II's and 49 Mk. III's. All RCAF Sunderlands flew in U.K colour schemes with U.K markings.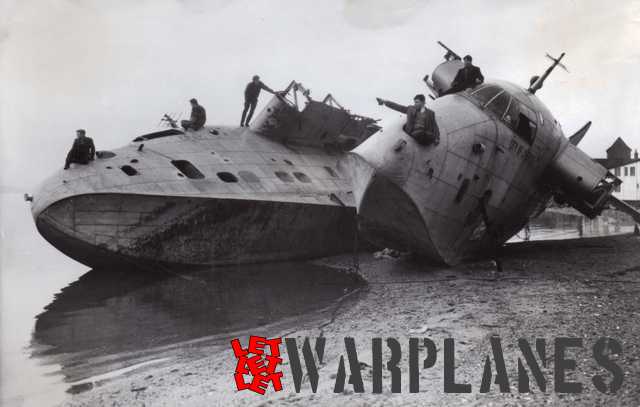 Aeronavale (France) During the war No. 343 ('Free French') squadron with French pilots flew over the period 1943-1945 with 18 Sunderlands stationed at Dakar and Port Etienne in Africa. After the war the French naval fight service Aéronavale received a total of 25 Sunderlands Mk. II and Mk. V from existing R.A.F. inventory. They carried French naval markings, but retained their original R.A.F. serial number. They were used operationally until they were replaced by the Martin Marlin in the early sixties. Norwegian air force Over the period 1943-1945 No. 330 (Norwegian) sq. formed at Reykjavik flew with a total of 7 Sunderland Mk. II's, 32 Mk. III's and 6 Mk. V's. Portuguese navy In February 1941 Sunderland Mk. I no. P9623 from No. 95 Sq ran out of fuel during a long range patrol after hitting a storm and had to land in Portugal. The crew was interned and the Sunderland confiscated. The crew soon returned home, but the Sunderland entered service at the Portuguese navy. It was used for a short period until it was unserviceable due to lake of spare parts. South Africa No. 35 sq of the South African Air Force operated after the war over the period 1945-1955 with 16 Sunderlands Mk. V carrying the serial numbers 1701 – 1715. One single Mk. V flew with its former R.A.F. serial number PP153. They were stationed at Congella Dunbar and Lake Umsingazi and were used until they were replaced by Shackletons during 1954 and 1955.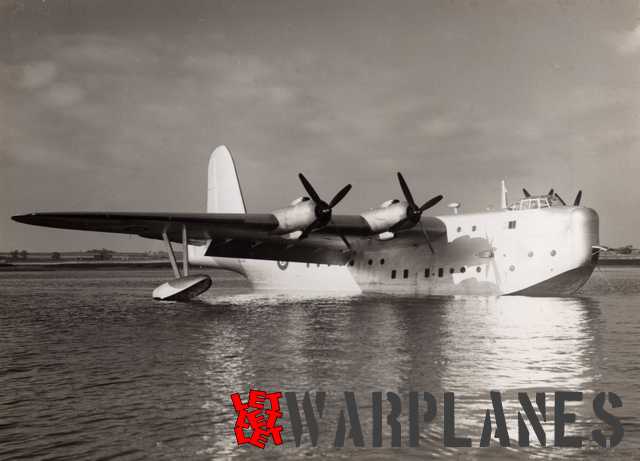 Production list: Sunderland S.25 Spec.R.2/33 prototype K4774 (1) Sunderland Mk. I: L2158-L2168, L5798-L5807, N9020-N9030, N9044-N9050, P9600-P9606, P9620-P9624, T9040-T9050, T9070-T9078 64 in total Sunderland Mk. II: T9083-T9090, T9109-T9115, W3976-W3998, W6000-W6004, W6005-W6016, W6026-W6033, W6065-W6068 66 in total Sunderland Mk. III: W3999-W4004(6), W4017-W4037(21), W6050-W6064(15), W6075-W6080 (6), DD828-DD867(40), DP176-DP200(25), DV956-DV980(25), DV985-DV994(10), DW104-DW113 (10), EJ131-EJ145(15), EJ149-EJ158(10), EJ163-EJ172(10), EK572-EK596(25), JM659-JM689(31), JM704-JM722(19), ML725-ML744(20), ML777-ML801(25), ML807-ML831(15), ML835-ML884(50), NJ170-NJ194(25), NJ253-NJ257(25) 428 in total Sunderland Mk. IV/Seaford Mk.I: MZ269, MZ271 (2), NJ200-NJ207 (NJ208-NJ229 cancelled) 10 in total Sunderland Mk.V: NJ259-NJ277(19), PP103-PP132(30), PP135-PP144(10) PP145-PP164(20), RN264-RN273(10), RN277-RN306(30), SZ559-SZ584(26), SZ598(1), TX293(1), VB880-VB889(10) 157 in total By the end of the war, large contracts for the Sunderland for a total of 255 aircraft were cancelled and the last of these flying boats was delivered in June 1946. Basically the Sunderland was manufactured at Short's Rochester plant. Because capacity problems were soon apparent, Short set up new production lines at  Belfast and Windermere. Additionally, production of a total of 250 Sunderlands of various marks was contracted out to Blackburn at Dumbarton.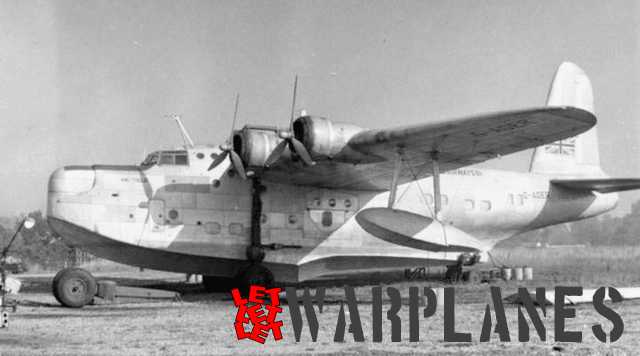 Civil uses: Civil Sunderlands During the war years their was an urgent need to supplement the Short C-class flying boats for passenger and freight transport. Six Sunderlands Mk. III (JM660-JM665) had their armament and military equipment removed and replaced by seats, although far from luxury.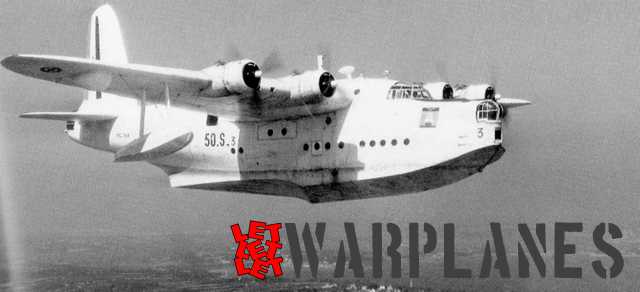 The front and tail turret were simply faired over. They were used by B.O.A.C. on the Poole-West Africa route. First was supplied in December 1942; the other followed within short intervals until end of January 1943. They received the civil registrations G-AGER, G-AGES, G-AGET, G-AGEU, G-AGEV and G-AGEW. When G-AGES crashed, it was replaced by JM722 with civil registration G-AGHV. Five more followed with civil registrations G-AGHW, G-AGHX, G-AGHZ, G-AGIA and G-AGIB. Six more Mk. III's were added to the fleet in January 1944: G-AGJJ, G- AGJK, G-AGJL, G-AGJM, G-AGJN and G-AGJO. The last six civil Sunderlands followed in July-August 1944 as G-AGKV, G-AGKW, G-AGKX, G-AGKZ and G-AGLA. All civil Sunderlands were extensively used for military transport until the end of the war. After the war a number continued to fly at various companies. A number saw also extensive use during the 'Air Lift' operations when the Soviet Union blocked the land roads to Berlin.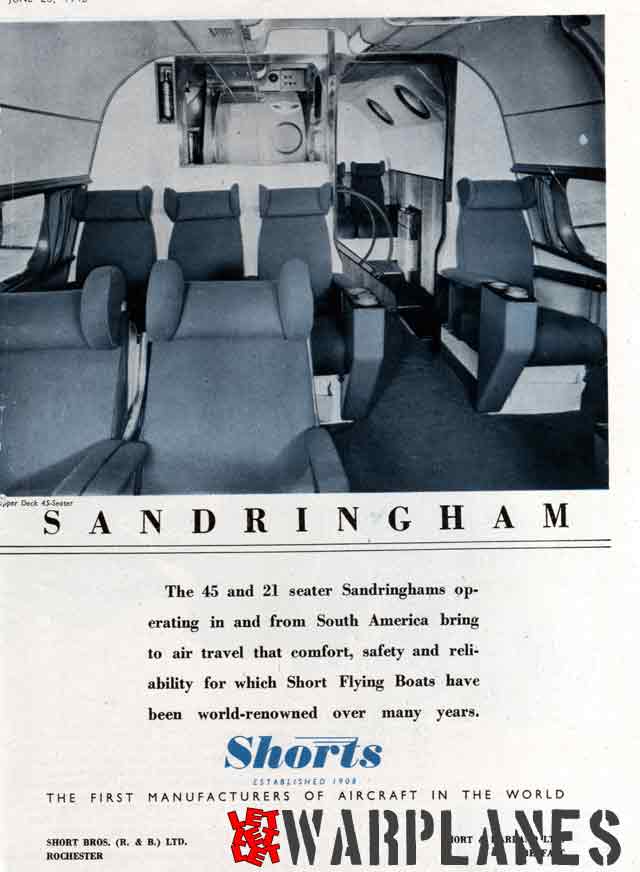 The Sandringham With the war ended and many Sunderland flying boats available as surplus, Short started with the conversion of Sunderlands into commercial civil flying boats. All military equipment was removed and while at the earlier wartime civil versions the front and tail turrets were simply faired over after removal the new civil con versions received a totally new rounded nose and tail cone. Short even gave it a new name: the Sandringham. The first one, known as Sandringham 1 was still fitted with the Pegasus engines. As G-AGKX it was used by B.O.A.C. with a capacity of 24 day or 12 night passenger including a bar on the upper deck and a dining saloon. The next three. known as Sandringham 2,  were fitted with Twin Wasp engines for the Argentinean operator Dodero with capacity up to 45 passengers. Dodero later ordered an additional two Sandringham 3's with capacity for 21 passenger. They had an upper deck fitted with a dining saloon and a bar. The Sandringham 4 was a 30-seat passenger version built for Tasman Empire Airways; four were built. Sandringham 5 was a version built for B.O.A.C. with capacity for 22 day or 16 night passengers. Nine were built but one burned out during conversion. The Norwegian company DNL ordered  five 37-passenger versions as the Sandringham 6. Three Sandringham 7's  were again supplied to B.O.A.C. The civil Sandringhams were used for a number of years, but at the late fifties it was evident the days of the flying boat were over and most were scrapped. One survivor is ex-B.O.A.C.'s  Sandringham 7 G-AKCO St. George. It finally went into French hands as F-OBIP and it was displayed for many years at Le Bourget airport in France.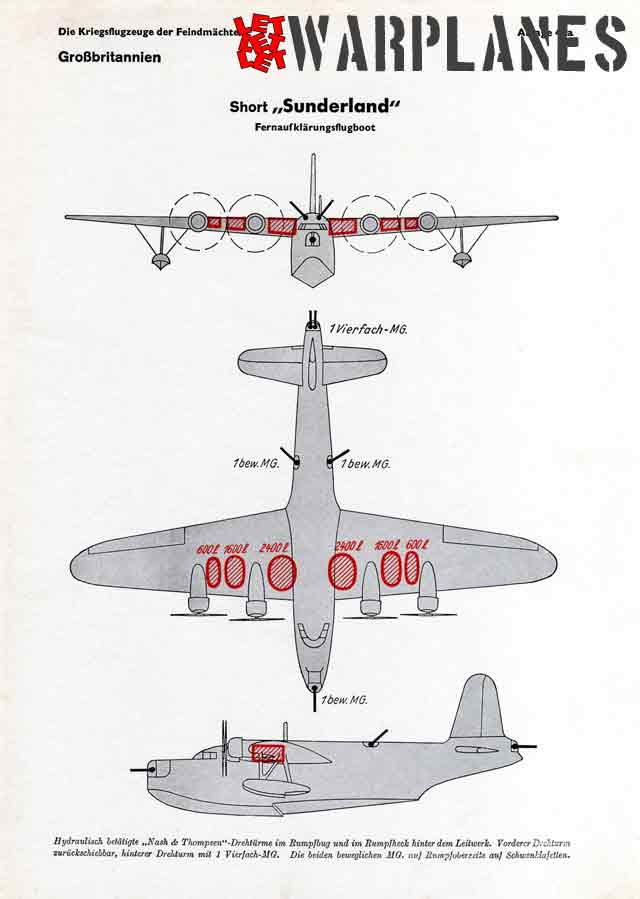 Sandringhams converted from Mk.III's and Mk. V's (ex-RAF serial between brackets): G-AGKX (ML788),  B.O.A.C. Himalaya Mk. 1 (registered as 'Sunderland Mk. III') G-AGPZ (DV964), became Dodero LV-AAO Argentina Mk. 2 G-AGPT (DD834), became Dodero LV-AAP Uruguay Mk. 2 G-AGPY (DD847), became Dodero LV-AAR Brazil Mk. 3 G-AGTZ (EJ170), became Dodero LV-AAQ Inglaterra Mk. 3 ZK-AMB (ML761), to Teal Quantas Mk. 4. Name: Tasman G-AHYY (ML737),  B.O.A.C. Porthsmouth Mk. 5 ZK-AMD (NJ255), to Teal  Quantas Mk. 4. Name: Australia ZK-AME (NJ179), to Teal Mk. 4. Name: New Zealand G-AHZA (ML783), B.O.A.C. Penzance Mk. 5 G-AHYZ (ML784), burned out at conversion; not used/not replaced  Mk. 5 G-AHZE (ML784), B.O.A.C. Portsea Mk.5 G-AHZG (ML828), B.O.A.C. Pevensey Mk. 5 G-AHZB (NJ171), B.O.A.C. Portland Mk. 5 G-AHZC (NJ253), B.O.A.C. Pembroke Mk. 5 G-AHZD (NJ257), B.O.A.C. Portmarnock Mk. 5 G-AHZF (NJ188), B.O.A.C. Poole Mk. 5 G-AHRE (ML843), to Dodero as LV-ACT Paraguay Mk. 2 LN-IAV (ML809), to DNL (Norwegian Airlines) Kvitbjørn Mk. 6 LN-IAU (ML807), to DNL (Norwegian Airlines) Bamse Brakar Mk. 6 LN-IAW (JM720), to DNL (Norwegian Airlines) Bukken Bruse Mk.6 LV-AAQ, refit of LV-AAQ for Dodero LV-AAR, refit of LV-AAR for Dodero ZK-AMH (JM715), to Teal as Auckland Mk.4 G-AMJZ (JM681), B.O.A.C. Perth Mk. 5 G-AKCO (JM719),  B.O.A.C. St. George Mk.7; later F-OBIP at Le Bourget Mk. 7 G-AKCP (EJ172), B.O.A.C. St. David Mk. 7 G-AKCR (ML840), B.O.A.C. St. Andrew Mk. 7 LN-LAI (W4037), DNL (Norwegian Airlines) Jutulen Mk. 6 LN-LMK (JM714), DNL (Norwegian Airlines) Polarbjorn Mk. 6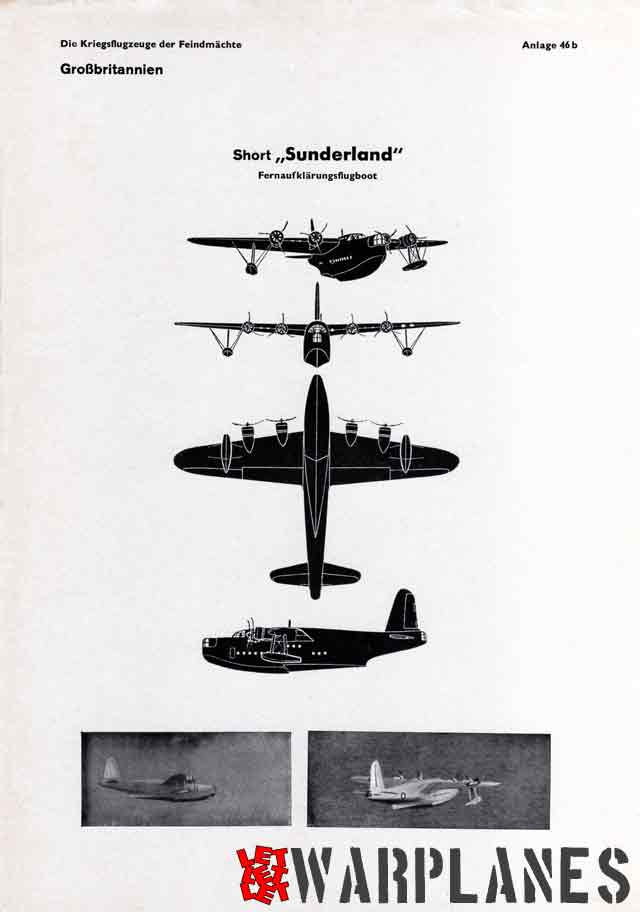 The Solent The Sunderland Mk.IV or Seaford arrived too late to play a decisive part in the Second World war and only eight production models were built and delivered after the end of the war. After a brief trial at No. 201 Sq the Seafords were returned to Short for modification as a passengers flying boat as the Solent. The two prototypes MZ269 and MZ271 were used for testing at the Marine Aircraft Experimental Establishment and finally scrapped in July 1947. The second production Seaford NJ201 was tested by R.A.F. Transport Command carrying the code letters OZZA on both sides of its rear fuselage. NJ201 was later modified with a rounded nose and tail cone and went to B.O.A.C. as G-AGWU. All other operational Seafords were returned to Short for conversion into commercial flying boats. It also was renamed from Seaford into Solent.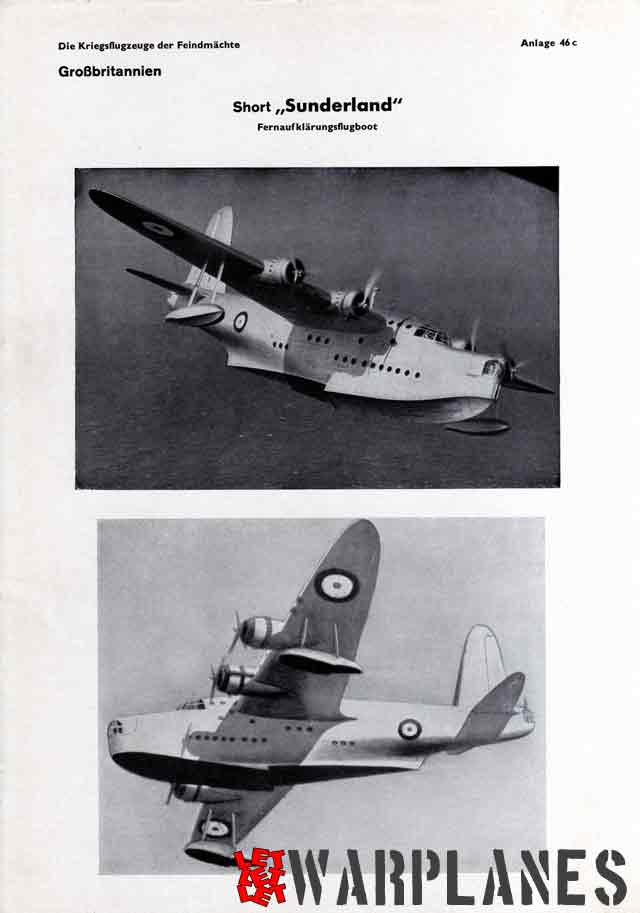 Short built in total 12 newly built Solents for B.O.A.C.  These Solents for B.O.A.C. and their names were as follows: G-AHIL, Salisbury G-AHIM, Scarborough G-AHIN, Seaforth (later Southampton) G-AHIO, Somerset G-AHIR, Sark G-AHIS, Scapa G-AHIT, Severn G-AHIU, Solway G-AHIV, Salcombe G-AHIW, Stornoway G-AHIX, Sussex G-AHIY, Southsea The converted Seafords for B.O.A.C. were: G-AKNO (NJ202) Seaforth G-AKNP (NJ203)  Sutherland G-AKNR (NJ204) Selkirk G-AKNS (NJ205) Sheerness (later City of Liverpool) The last two ex-Seafords were never operated by B.O.A.C.: G-AKNT (NJ206) Singapore for Ministry of Transport; later to South Pacific airlines as N9947F G-AKNU (NJ207) Sydney for Aquilla Airlines A last batch of four newly produced Solents was ordered by Tasman Empire Airways Ltd (TEAL): ZK-AML Aotearoa ZK-AMM Ararangi ZK-AMN Awatera ZK-AMO Aranui Ex-Seaford G-AKNP received finally the U.S. registration N9946F and was flown until 1958. It is one of the two Solents that escaped scrapping and at present it is on display at the Oakland Aviation Museum in its original Seaford markings as NJ203.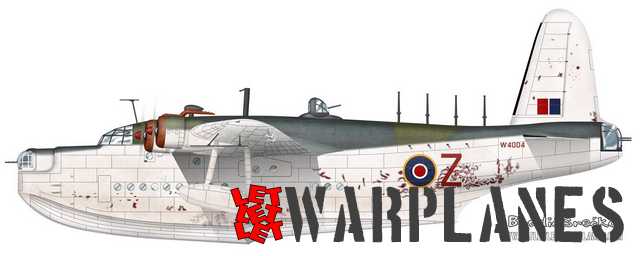 Technical details (Sunderland Mk. V): Power plant:              four Pratt & Whitney R-1890-90 14-cylinder double row radial air- cooled engines of 1200 hp each Dimensions: -wing span                   34.42 m -length                         26.00 m -height                         10.02 m Weights: -Empty                                    16,783 kg -take-off                      27,216 kg max. Performances: -Max. speed                343 km/h at 1624 m -service ceiling            5456 m -range                          4796 km  in still air Armament:                –nose turret with two 7.9 mm machine guns -fixed armament of four 7.9 or 12.7 machine guns in the nose -tail turret with four 7.9 mm machine guns -four 7.9m m machine guns in a dorsal turret or two 7.9 mm machine guns firing through two hatches Total of 907 kg of bombs and/or depth charges Crew:                          pilot, co-pilot, navigator, wireless operator, bomb-aimer, flight- engineer and gunners. Total crew was 10 to 13 although there was room for several more people if needed. Survivors: With more than 700 build we can say that at least a small number of Sunderlands and its derivatives are still existing as complete aircraft in a general good shape. From the list below it will be evident that eight are still existing: 3 Sunderlands, 3 Sandringhams and two Solents. Kermit Weeks' Fantasy of Flight Museum in Florida proudly announces it has 'the last 4-engined flying boat of the world that can still fly'. It flew in in 1993 as G-BJHS, but has not flown since! It was originally Sunderland Mk. III/Mk. V with R.A.F. serial ML814. Later it was RNZAF NZ4108 and was converted in Australia to Sandringham standard as VH-BRF. Although it is kept in an immaculate condition it is highly unlikely it will ever fly again. The Sandringham at Kermits Weeks' is painted in an attractive all-over white with green stripes and carries the name 'Fantasy of Flight' on its nose
·At the Imperial War Museum collection at Duxford Sunderland Mk. III/V ML796 is on static display. It arrived here in 1975 and has been restored in excellent condition.
·Short Sunderland Mk. III/V ML824 is on display at the Royal Air Force Museum at Hendon.
It is an ex-French Aéronavale machine where it was retired in 1961. Ten years later it was acquired by the RAF Museum.
· Short Solent G-AKNP City of Cardiff  (formerly Sutherland) is on display at the Oakland Aviation Museum, California in its all-white post-war B.O.A.C. scheme.
·Another Solent is on display at the MoTaT Aviation Unit ('Museum of Transport and Technology') in Auckland, New Zealand. It is ex-TEAL ZK-AMO Aranui.
·MoTaT at Auckland also has an original Sunderland Mk. V on display. It is the former R.A.F. machine SZ584, in 1953 refurbished as NZ4115 for the RNZAF.
·Sandringham ZK-AMH (ex-JM715) is now on display at Solent Sky exhibit hall at Southampton, U.K..
·Sandringham F-OBIP (ex-JM719/G-AKCO) is under full restoration at the Musée de l'Air at Le Bourget, France.
  Literature: -Anonymous, Sunderland – The RAF's legendary protector of the sea-lanes, Aeroplane Icons series 2012 -Dennis Baldry, Piston airliners since 1940, Phoebus Publishing U.K. (1980) -C.H. Barnes, Short aircraft since 1900, Putnam U.K. (1967) -Chaz Bowyer, Sunderland at war, Ian Allan U.K. (1976) -William Green, Warplanes of the Second World War Vol. 5 Flying boats, Macdonald UK (1962) -John Stroud, Short Sandringham in 'Post-War propliners', Aeroplane Monthly April 1993 -John Stroud, Short Solent in 'Post-War propliners', Aeroplane Monthly June 1993 Nico Braas