Kursk
We all who has lived in the Eastern Europe and have been interesting in aviation history, was more or less informed about the battle of Kursk and that this present also one of the largest aerial operation in the WW2. Last years there is more serious publications regarding to this subject and no doubt that best authors coming from the former Soviet Union. Latest title in this field coming from UK and SAM Publications has just released book Air War Over Kursk- Turning Point in the East. Author of the book is Dmitriy B. Khazanov.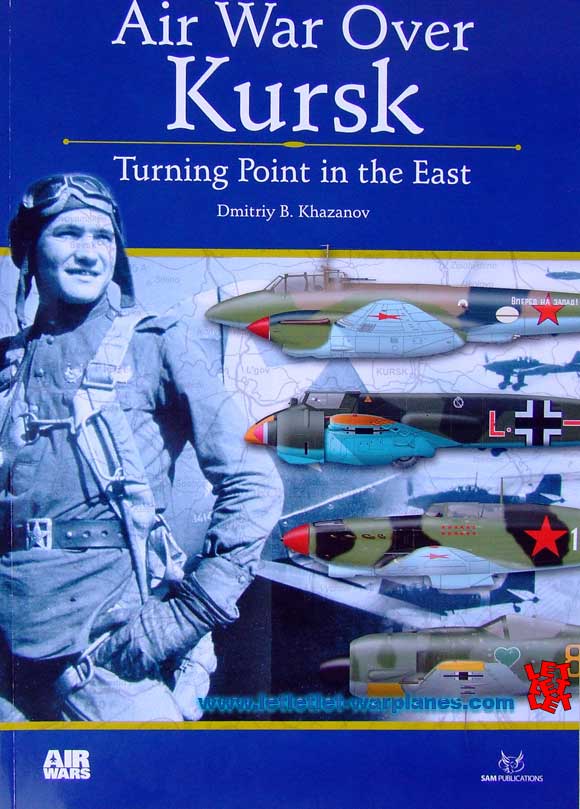 Book is soft cover and have 144 pages + cover and it have eight chapters and four appendices. Book begin with the introduction into the whole situation prior the Kursk battle, and whole preparation for the operation which was planed to be sudden operation which have to bring victory to Germany. Whole battle is concentrated in very narrow area and Soviet had a supremacy in all type of equipment.
Text is easy to follow and it bring a lot of information. There is interesting to find out how to whole thing looks like from the Soviet side, how the operations was called and to see the images of some of prominent Soviet officers. When I mention images, I have to say that book is full of very interesting images, some are well known and some not. Image which simply attract me is the image of Ruddel who give instruction how to attack Soviet tank T-34 and he demonstrate this on scale model of T-34! Book is filled with a number of the color profiles and they show aircraft of both sides engaged in this great battle.
Appendices give excellent overview on all battle units, equipment, personnel, missions and so on. Final pages are left for the index of terms.
Book is interesting and worth to have. If you are modeler you will find here many interesting subjects for your plastic kit and dioramas and if you are not, you will find there good source of info about this WW2 epic battle. This is first book from the SAM Publications Air War series and I hope that more good title will come out.
Book is recommended!
Srecko Bradic
Sample book is provided by Gary Hatcher, Editor from SAM Publications