Kawasaki Ki-78 AZ Model
Kawasaki Ki-78 is one of the very interesting design used for research and until today it held speed record for the piston engined aircraft in Japan. It is build in only one sample and it was subject of various modifications and upgrades during the service. This beautifully shaped machine was subject of the new product release from AZ Model and they have delivered in the early summer 2010 plastic injected kit in 1/72 scale.
This kit have all general manufacturing features as many of the AZ Model kits, it is very simple, but also precise, and this kit have all plastic part on two frets, one in grey plastic and the another one in clear plastic and this present cockpit canopy.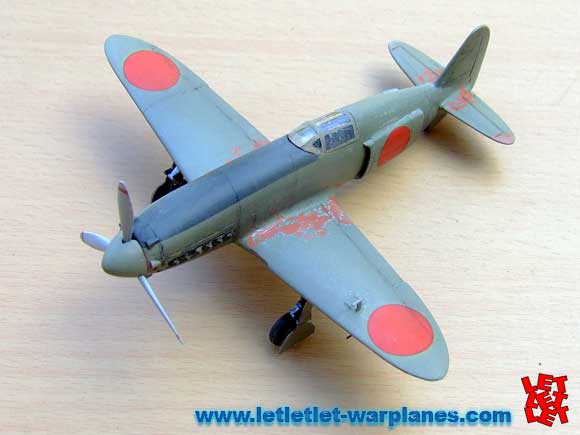 Building of this kit is very easy and whole kit could be assembled in one day only! There is no need for some additional parts fittings except of the canopy, there is need to sand down bottom line of the windshield, to match contour of the fuselage frame. From the available images I have noted that some panels should be engraved, some to be removed but even if you skip this step, kit will keep its very good look.
Some improvement need to be done as well some parts need to be add from your scrap box. First you need to make pilot stick inside cockpit. You need to make one probe which is positioned on the top and bottom of the port wing and also to engrave panel close to it. Under the horizontal surface you need two counterweights (Bf109 style work perfect). And finally you need to add landing gear actuator. Please also note small scallop on the aircraft nose. With this small upgrades kit will be nearly perfected.
There is some options with the finishing of the kit. For the inside is recommended blue color, which is good but also inside can be also in khaki color, used from the mid war. External finish is in the orange color but there is option in natural metal color. I have made this kit as it look in very late stage where it was painted over orange with lighter color, possibly grey used as camouflage color. Decals are perfect in color but hinomaru are smaller in size so you need to put new, a bit larger.
I like this kit very much, it is easy to build and look really nice on stand. This kit is recommended! See also complete build on our forum!
Srecko Bradic
Sample kit is provided by Filip Tonci from AZ Model
References: Nico Braas online
article
"Japanese Aircraft of the Pacific War", by René Francillon Archive images from personal collection