De Havilland Sea Vampire T.22 CMR kit 153
The de Havilland DH.100 Vampire was the second jet-powered aircraft commissioned by the Royal Air Force during the War. The Vampire served with front line RAF squadrons until 1955 and continued in use as a trainer until 1966. It also served with many air forces worldwide, and set several aviation firsts and records. Almost 3,300 Vampires were built, a quarter of them under licence in other countries. Geoffrey de Havilland Jr, the de Havilland chief test pilot and son of the company's founder, test flew prototype LZ548/G on its maiden flight 20 September 1943 from Hatfield only six month after the first flight of Gloster Meteor. The production Vampire Mk I did not fly until April 1945, with most being built by English Electric Aircraft due to the pressures on de Havilland's production facilities which were busy with other types. Although eagerly taken into service by the RAF, it was still being developed at war's end, and consequently the Vampire never saw combat in the Second World War. The Vampire was a versatile aircraft, setting many aviation firsts and records, being the first RAF fighter with a top speed exceeding 800 km/h. Piloted by Captain Eric "Winkle" Brown, a Sea Vampire was the first jet to take off from and land on an aircraft carrier and in 1948, John Cunningham set a new world altitude record of 18,119 m. On 14 July 1948, Vampire F 3s of No. 54 Squadron RAF became the first jet aircraft to fly across the Atlantic Ocean.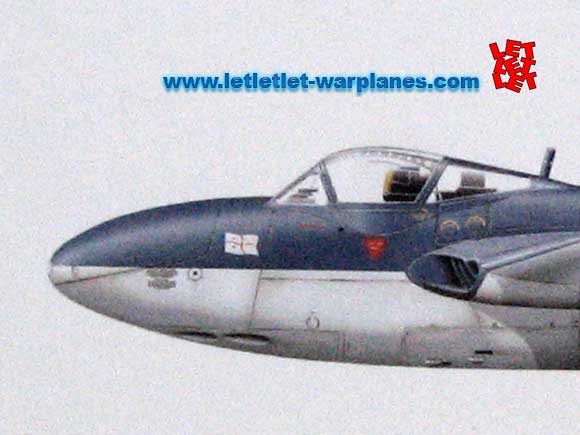 In the late forties the RAF acquired the first two-seater Vampires as T.11s. The Royal Navy were impressed with the T.11 and ordered 73 of them with minor modifications as T.22 Sea Vampires. They were not carrier capable. All the T.22s were delivered between 1952 and 1955. Initially the Sea Vampires had the T.11's multi-framed canopy hood and no ejection seats; later production T.22s incorporated a one piece hood and ejection seats. Both modifications were retrofitted to the earlier planes. The RN's T.22s served into the early sixties with a few lingering on until about 1970.
Czech Master Resin kit
As we used to from CMR this kit is completely designed in their manner, perfectly engineered with fine details and outstanding precision. Vampire is packed in CMR standard box, with parts that are packed in separate plastic bags to avoid damage.
Kit contains 52 resin cast parts molded in cream resin, 6 resin cast parts molded in black extra strong resin and two vacuformed canopies. Assembly instructions are well drawn and easy to follow on three sheets, with another five sheets with painting and marking instructions. Panel lines are crisp and clean, presenting all the nice details this plane had, CMR did a great job there. Cockpit is detailed although being molded together with the fuselage, and a special curiosity is nose section that holds electronics that can be opened if you chose to. CMR provided an option to leave the flaps and airbrakes in open or closed position for you to choose, as well as to mount underwing fuel tanks. There is plenty of nice detail in the wheel wells and the cannon ejection ports are nicely moulded too. The modeler is required to make the air-intake bars, but it should represent no problem considering the nice drawings with all accurate dimensions given in instruction sheet. Canopy is very nice and transparent, and in case of accident during cutting off you have one spare.
Decals are very thin and beautifully printed so you will have no problems working with them. CMR provided 5 different marking options for this airplane, three overall aluminum airplanes with fluorescent red-orange tail boom,wing and nose sections; one from the Station Flight at Lossiemouth in 1962, one from 750 Sqd. at Hal Far in 1965 and one from 727 Sqd. at Brawdy in 1963 as well as a Blue over White "Admiral's Barge" from the Station Flight at Yeovilton in 1967 and another "Admiral's Barge" in Emerald Green over White from Lee-On-Solent in 1963.
Overall impression is that CMR produced a true gem, an early Jet that every modeler should have in collection and with some effort this kit can really be made in award wining model on shows.
This model is highly recommended!
Darko Mladenovic
Sample product provided by Petr Buchar from Czech Master Resin http://www.cmrmodels.co.uk/