De Havilland Venom FB.4
The de Havilland DH.112 Venom was a British postwar single-engined jet aircraft developed from the de Havilland Vampire. It served with the Royal Air Force as a single-seat fighter-bomber and two-seat night fighter. The Venom was an interim between the first generation of British jet fighters – straight-wing aircraft powered by centrifugal flow engines such as the Gloster Meteor and the Vampire – and later swept wing, axial flow-engined designs such as the Hawker Hunter and de Havilland Sea Vixen. The Venom was successfully exported, and saw service with Iraq, New Zealand, Sweden, Switzerland and Venezuela. The Sea Venom was a nasalized version for carrier operation.
The new plane was originally designated Vampire Mk. 8. The extent of the changes was so great, however, that D.H. created the new model number and name. The Venom was heavier, a bit longer and had better all round performance than the Vampire. The FB. 1 Venom first flew at Hatfield on September 2, 1949. By this time the Ghost engine had been developed to produce 4,850 pounds of thrust. The Venom entered service in summer 1952 with 11 Sqn. in Wunsdorf, Germany and most Venoms were assigned to units overseas. The main production variant of the Venom was the FB. 4, which first flew on December 29, 1953. It entered service in 1955 and 250 were built. It was powered by a single 5,150 pounds of thrust de Havilland Ghost 105 turbojet engine. It also received an ejector seat and some modifications to its structure.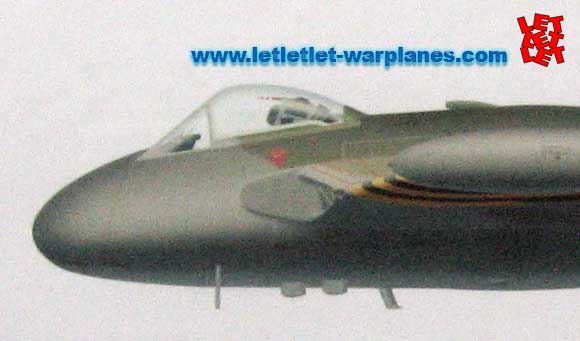 The RAF fighter-bomber Venoms saw service during the Malayan Emergency which took place between 1948 and 1960, although they did not begin operations until the mid-1950s with Nos. 45 and 60 Squadrons RAF. While there, the Venom supported operations against Communist guerrillas as part of Operation Firedog, the codename for Royal Air Force operations in Malaya. Venoms were lent to the Royal New Zealand Air Force for use in the same conflict where they operated with No. 14 Squadron RNZAF. The Venom also saw service during the Suez Crisis flying from RAF Akrotiri, Cyprus. The Anglo-French invasion, codenamed Operation Musketeer, took place in response to the nationalization of the Suez Canal by Egypt's leader, General Nasser. The air war began on the 31 October 1956 signaling the beginning of the Suez War. The Venoms launched a number of sorties, attacking a variety of military installations on the ground. They also saw much action in the Middle East, supporting operations against terrorists in Aden and Oman, losing some aircraft in the process. Venoms additionally saw service during the Mau Mau insurgency in Kenya.
All Venoms in RAF service were withdrawn from first-line service in 1962, having proven their worth in a variety of locations across the world, in peace and war, and in some of the most difficult climates the RAF has ever faced. The last non-RAF Venoms to leave active service were Swiss Air Force Venoms which retired in 1983. About 20 Venoms continue to fly as of 2004, performing at various air shows.
CMR kit
When you open a new style box of this Venom kit you will be certain that this kit is must have. A beautifully engineered CMR model is exquisite, finely engraved panel lines that are crisp and smooth. This multimedia kit comes with Eduard photo etched parts on two frets and masks for quick and precise painting of canopy. Resin parts produced by CMR are as usually outstanding quality with minimal molding blocks parts that need to be cleaned. Cockpit is highly detailed and once assembled and painted it looks wonderful and realistic. CMR provided two Canopies as usual for them just in case that you need to practice on one; these parts are vacuformed and with excellent transparency. Level of details on fuselage wings and tail is excellent with opportunity to leave flaps and airbrakes in opened or closed position at your choice. Undercarriage is outstanding with wheel wells beautifully molded and highly detailed. CMR supplied all the weapon inventory for this airplane including various types of bomb load and rockets. Assembling and painting instructions are given on 12 A-4 size papers sheets, which are perfectly clear and easy to follow. A bonus of eight pages of photo walkaround is also provided. Markings for four airplanes are beautifully printed on outstanding decal paper, and the decals are thin just as they should be.
Three camouflage scheme of standard Green over Grey are given among painting instructions one for Venom belonging to 266 Sqn. In 1955, one from 60 Sqn. In late 1950s, and one from 249 Sqn. From operation Musketeer back in October 1958. One special scheme is for overall white airplane with red tip tanks and rudder belonging to the 60Sqn aerobatic team from December 1957.
Modelers around the world interested in early jet aviation subjects were waiting this kit for far too long. This kit is excellent and therefore I can recommend this kit to all modelers with a bit experience.
This model is highly recommended!
A full build review for Venom kit can be found here
Darko Mladenovic
Sample product provided by Petr Buchar from Czech Master Resin