F-104G Starfighter CQ-7 seat detail set 1/48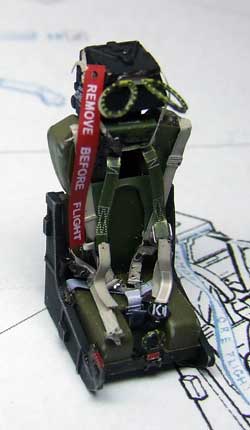 For just 7,95 USD you can get highly detailed photo etched detail set with parts for two kits! Interesting? Here you are… In the December 2006 "Eduard" had released a number of new products and one of this is the ejection seat detail set for the Hasegawa F-104G Starfighter in 1/48 scale.
Starfighter belong to the "Century fighter" and G version was the backbone of the NATO fighter forces from '60 up to '80. This plane had two type of ejection seat in use and "Eduard" had launched set for the later model, CQ-7.
This set can not be used strait from the fret but some minor modifications have to be made on the basic "Hasegawa" injected parts. Part which has to be converted is the S7 and from the top part of the rest have to be cut slot. In this slot later have to be put some parts from the "Eduard" set. Also from the part marked S8 have to be cut ignition handles as well from the S1 small grip in front lower side.
After this basic preparation ejection seat can be painted and assembled. Inside package with detail parts number 49 036 is actually enough parts for two ejection seat. Most lovely thing is that all of the parts are pre painted and paint is very precise in the color as well in the application.
Assembly sheet inside package is very detailed and easy to follow. Most important to say that many of parts before final cementing into position have to be bent and shaped to conform to the surface. Start point is the top side of the ejection seat and first parts to be placed is two small plates with service inscription- detail which "Eduard" prints with incredible precision.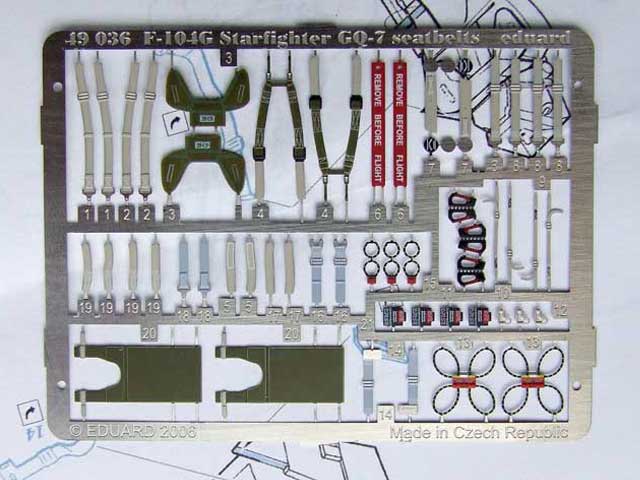 After the finished all of detailing this seat simply could not be compared with the basic shape provided in the box of "Hasegawa" kit. Ejection seat is fully detailed with every single belt used on the actual object. Final touch is the placing of the service security measure "remove before flight" band tapes and two of them are provided within the photo etched detail set.
No need to say that "Eduard" had again provided ultimate product at very attractive price and with top authentic. This product is highly recommended!!!
Srecko Bradic
Sample detail set for Starfighter CQ-7 ejection seat weere provided by Jana Sulcova, from Eduard