SM.79 super detail set 1/72 Eduard
"Il Gobo" is the nick for the one of the most famous Italian combat plane Savoia Marcheti SM. 79 Sparviero [Hawk]. This bomber starts its operational carrier just some before the World War 2 and briefly performs first line combat action until the capitulation of Italy. For the many researchers and historian this is still one of the best torpedo bomber. I have a chance to talk with the surviving pilots of this plane and this plane is remember as very nice and agile combat platform with very nice performance and bomb load.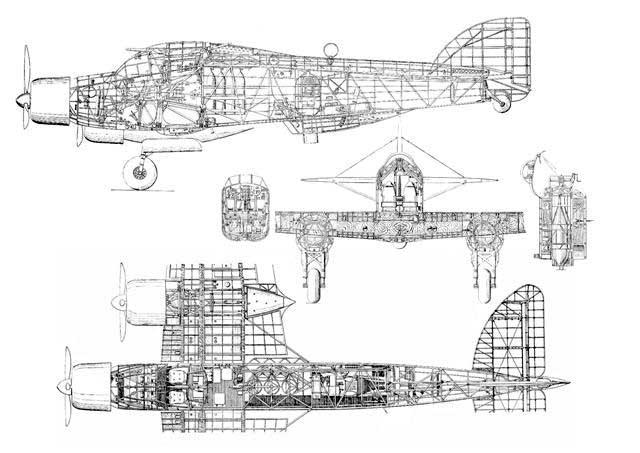 I am sure that very skilled modeler could made superdetailed interior as shown on the top image. Off course if he have larger image… but is this necessary? Off course not!! "Eduard" had done all what you need some before and their parts allow even to less skill modeler to make award wining model with no problem.
In the December 2006 "Eduard" had released on market one giant set of photo etched parts for the Savoia Marcheti SM.79 bomber in 1/72 scale. This set is intended to be used on the scale kit manufactured by "Italeri" which is claimed as most accurate on market in this scale. This new release from "Eduard" is actually composed from their previous edition of the separate detail set and protective mask.
Lets start from the inside set- manufacture number 73 280. Inside of plastic bag is three photo etched frets. Smaller one contains parts for the entry door which is on the plane on the port side of the fuselage. These parts replace exciting parts on the plastic kit and they perfectly represent door in open position with the construction visible and stairs on it. Larger fret include all you need for the same pilots cockpit compartment. The best at al that this set have pre painted some very detailed parts like the instrument panels. I said panels as well the main board is consisted of the two parts and more other small details and parts. What else in this fret- seat belts, installation wires, ammunition frame boxes, control sticks, walls… and the bigger one from the same plastic bag contain all of the other details set related to the scale kit interior. And there is number of the construction frames, full details for the lower gun portion, top defense portion, whole bomb hanging system, walk areas, more internal construction…
Other plastic bag inside card box pack includes exterior detail parts. And first part of instruction leaflet and the related parts from this are shocked me- there is include parts which replace exciting tube from the scale Breda Safat 12.7 mm machine guns with the rolled etched parts. Very small detail part in 1/72 and "Eduard" did these parts [for three machine guns] with amazing precision!!! Undercarriage door have new inside cover from etched parts and this more then authentic present interior of the real plane. Off course there is more small parts related to the landing gear legs and door. Engine on the plastic kit is not state of art of detailing and additional metal parts from "Eduard" are more welcome to breath life to this section. Interesting to note is that there are frames for the windows and there should be pay attention during the cementing to avoid damage of the kit clear parts.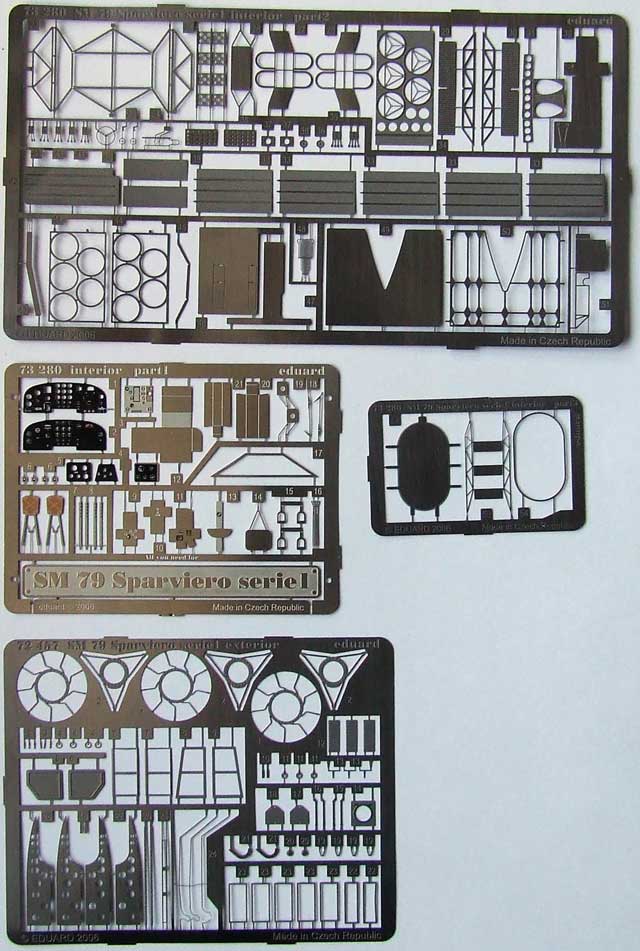 And at least protective mask- it is made from the best possible self adhesive material which is cut into the precise shape of the area which have to be cover and excellent protect from the paint.
I did not pay much attention to the same plastic kit for which is this great set prepared but more info I have take from the flight manual for this bomber and all of this parts are compared with this historic document as well many of images. Also I have done some of the important re measures and state that the "Eduard" is again done extraordinary job. I am proudly owner of this set and be sure that you would not regret if you order one or more for you. Highly recommended!!
Srecko Bradic
Sample detail set for SM.79 were provided by Jana Sulcova, from Eduard