Super detail set for Fw190A from Eduard
October 2006 bring on the market ultimate kit of the Focke Wulf 190A ever built and honor for this release belong to "Eduard". Everybody who has seen this kit is for sure impressed with the quality, accuracy and complexity of the kit. From the any point of view this kit in 1/48 scale is the top project of the kit in the aspect of the same preparation, method of tooling and followed accessories. First impression was that there is almost nothing to add due to the great number of parts followed by the kit own photo etched set. But the November release 2006 brings something very intriguing- photo etched set for this plane!!
And there could be better if I could say set's as well inside plastic package is two photo etched sets. Kit set is number 48 556 and bring great new number of complete new parts which is add to the exciting parts on the kit or replace it completely. Manufacturer "Eduard" is going in very deep detail and all what is visible is taken under threat. I said visible as well this set does not include interior parts; this parts are included in the basic kit set. This set is dedicated for the detailing of the area under the skin. There have to be noted that when assembly kit some parts are to be placed before the main parts are assembled. In this way wing spar is completely covered with the metal parts with rivets and panel details and cooling gills have from inside metal construction.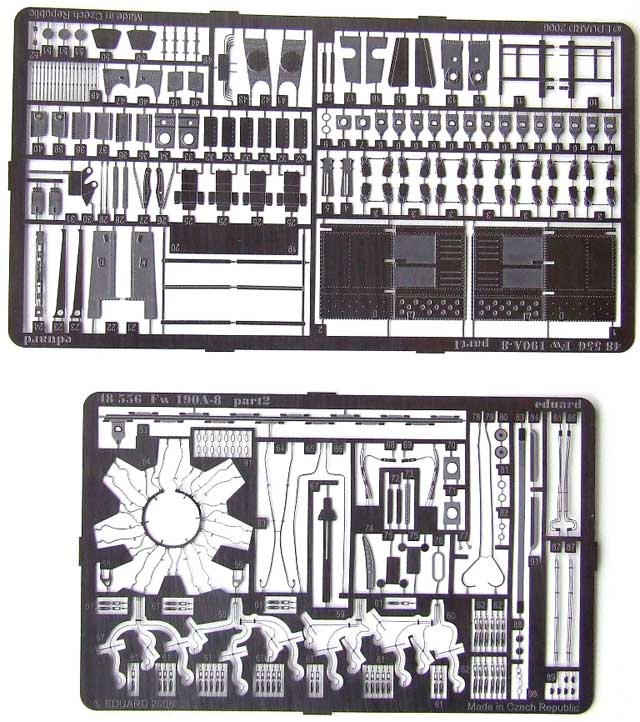 Armament portions are very detailed. Machine gun portin in front of the windshield has some 12 new parts but the same box in the wing root, where the cannon are housed, have all walls, structure and cables made. Engine also include great number of various plates and wires which are on the same cylinders or body and most interesting feature is the cowling door which are complete made and have to replace partially origin of injected plastic. All what was visible in the open access door is presented with this detail set. There is also a number of miscellaneous parts like the metal strip over the cockpit, metal band on the wing, metal band for the belly fuel tank, cannon barrels, pipeline for the landing gear strut…
Using of this incredible photo etched set will help you to transform this 1/48 in the amazing super detailed model.
Srecko Bradic
Sample detail set is provided by Jana Sulcova from "Eduard"