Albatros D.V 1/48 Hans von Hippel
One of the latest release from "Eduard" is the Albatros D.V "Weekend Edition" and this is 1/48 scale kit with manufacturer number 8406. Sample kit is presenting the fighter plane flown by Hans von Hippel. Information about this very interesting release I will start from the back- the same camouflage and finishing of the kit.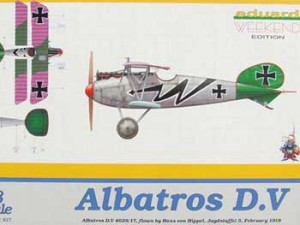 Decal is provide for only one sample and this sample is one of the few Albatros flew by Hans von Hippel. Hans von Hippel by its self is very interesting figure as well he was fighter pilot in the First World War and had two confirmed aerial victory's, one of these was two seater on the Russian front. He flew in the Jasta 5 and later in the Jasta 71. During the World War two he was still flying but this time at the controls of the Junkers Ju52. He died in 1975.
At least is know that he is flying a Albatros with dragon motive on the fuselage, red dragon breathing fire and also a pair of Albatros with black lightning on the fuselage. His planes had on the topside lozenge printed pattern but the sample released by "Eduard", Albatros D.V serial 4629/17 had topside of wings painted in two tone camouflage Mauve and Green. In any case tail of these planes was painted in the Jasta 5 medium green color. The same hue of the color is not known. Fuselage of the plane is also specific painted in the medium light grey color.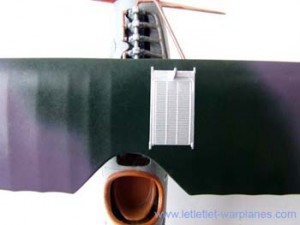 The same idea to release "Weekend Edition" is very new and interesting for me. And the fact is that in the modern rhythm of life there is not much time for the modeling and many modelers use free weekend time for the hobby. This kit follow this idea- very simple, decal for one plane, no headache which one to choose, no etched parts… just basic kit and this is it. And I like this idea and this work- I did not make this kit for one weekend but in few it was complete to the very attractive kit.One attribute can be also added to this kit and this is "integral". Nothing is vast here and in this way art box of the kit include camouflage pattern of the kit with the decal apply direction. Well this idea is not new, many low end manufacturers before had print something like this on their box but from my experience "Eduard" is the only one to do this good. Their box for Albatros D.V is very attractive and excellent sample of the good design and graphic composition.
I did not note any difficulties during the kit assembly and more to say that the same kit is very easy to build. I have watch at the many of archive photos and details are captured with good precision. Interior is very nice done. As well all plane is made of wood inside is off course natural wood color. Actually not wood but plywood. Part of the construction inside are of metal and they have to be paint in metal. Engine is basically very good detailed and gives possibility for the super detailing… if you decide not to follow "weekend" idea.
Finished model look beautiful and real. There are parts inside which are not include in this kit release so we can expect in the future more and more release of this great fighter scale kit.
Srecko Bradic
Sample model provided by Jana Sulcova from "Eduard"