Nieuport XVII 1/48 "Flyboys" movie
Some of us are modelers, some not but in general movies and television play important role in our lives. Many years ago after the premiere of the well known movie "Top Gun" US military authorities was faced with incredible interest and new candidates for their military academy. But more time ago started serial "Star Wars" and this brings something new to the public- a great selection of the kits from this movie!!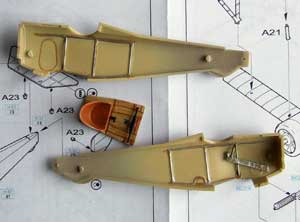 In the September 22. 2006 was the premiere of the new movie "Flyboys". This is the rare topic seen on the screen- a tale about the brave pilots from WW1. Story is related to the famous French escadrille "Lafayette". And thanks God, "Eduard" is released just some after first in the series of the scale kit with subject of planes from the movie. The same project is great done starting from the same kit box which is very very attractive and in graphic it present close resemblance of the movie posters. And what we have inside- a set of parts, all injected, for the kit of Nieuport XVII, decal instruction on glossy paper, excellent printed decal sheet for the decals for four planes…
"Eduard" has the basic kit of Nieuport XVII as before and this is just special edition release. All is already known about this kit but let tell it again- very simple kit, and easy to built. Interior is rater Spartan but this is the WW1 plane and they are primary simple machines if compared with modern one. With no difficulties this can be very fast built into the nice model. Some of specifies can be noted here such as that the top wings have to be full complete on the underside as well national insignia is placed on the underside of top wing and on this place have to be cemented strut in the later step of assembly.
My choice for the finished kit is the plane from the cover art and first sample from instruction sheet. This present is Cassidy's machine N1723. The red striping on the engine cowling is reminiscent of No. 1 Sqdn RFC in about August, 1917. The "W" on Cassidy's top wing was copied from Harold Willis' SPAD VII of the original Lafayette Escadrille. The Cassidy character was the embodiment of Raoul Lufbery from the original Lafayette Escadrille. But all of the samples decals in the box are very interesting and colorful.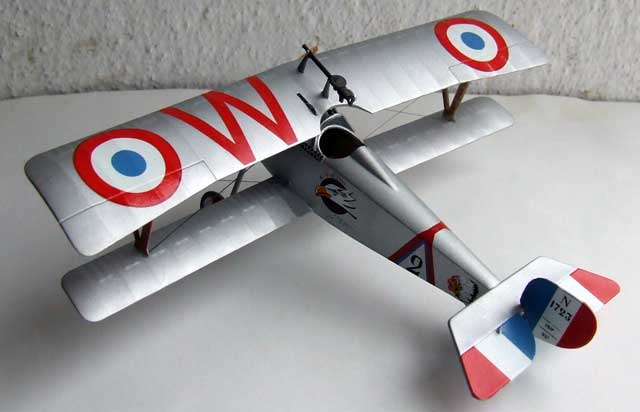 What to said more- this is one more release from "Eduard" which can be build with enjoy and relaxed but the same kit offer large super detailing possibilities for all of you who like to give more life to the kit. As well this is special edition this means that stock of this kit will lightning fast…
I would like to grant thanks to the Stephen Lawson for his invaluable info about this project.
Srecko Bradic
Sample model provided by Jana Sulcova from "Eduard"