Norge Caproni 310
Caproni Ca. 310 was Italian interwar twin engine light bomber. This plane served in service in several countries and there is presented booklet about its service in Norway.
Content start some unusual with color's, camouflage and markings. Maybe good idea as well many of modelers at first place looking to see camouflage pattern for application on their models. This is followed by short history where was mentioned all of samples served in the Norway. Delivery was some delayed from Italy and the first sample to arrive was plane No. 503. This was interesting plane and also Spain, Yugoslavia, Chile, Hungary and Greece show interest for this plane.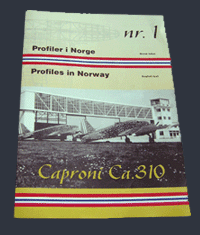 In Norway this plane was maintenance by Kjeller Aircraft Factory. As well this plane was dedicated for the coastal surveillance mission, there was need to build in cannon armament and replace electrical installation of 24V instead of 12V. The plane hade some service problem and Caproni also provide support in finding solution.
Two more plane, model 312 bis was ordered but also signed contract for license production. Most interesting part in the booklet present memory of the former pilots who fly this planes and from their manuscript could be noted that Caproni 310 had aerobatic capabilities.
Modelers, plastic and RC, will be pleased with very good technical description of the plane as well technical drawings of the plane. Drawings are available for 310 model but there was also side view of 312 bis model. Of special interest are extract from manual where much of construction details are presented as well interior photos of the plane. Other important source printed inside are factory drawings of the wings and fuselage.
Last pages are covered with review of the Dekno resin kit of the type and conversion from Italeri kit into the 310 model. In this moment is the project of restoring one of the plane in Norway and there is few photos of the preserved parts and assembly's.
No matter that the author did no have attention to make ultimate history publication he has done extraordinary job and this booklet is highly recommended!!!
Srecko Bradic
Sample publication provided by Arlid Kjœraas, author and owner of "Profiler i Norge"