Eduard Bf 109G Royal Class
It was just matter of time before Eduard had a go with a Bf 109G kit and after long preparation and promotional campaign; it arrived on market during the summer this year. The new kit was in 1/48 scale and it was followed with various after market products.
This kit was not presented on this site but on our forum and you can see this build here. Main problems encountered with this kit are:
1) The kit is slightly oversized at 1/47 scale i.e. 6 mm added to the wingspan and 4 mm to the length. Apart from this little oversize it is well proportioned and the tooling is fantastic.
2) The fin is symmetrical although the actual one was flat on the left side to counteract the propeller torque.
3) The base of the supercharger air intake is a little too small. In reality it must be as shown on accompanying picture.
4) There are strange hydraulic lines on the u/c legs…
5) The tires are not good, not thick enough when seen on the side.
6) Landing gear is a bit longer
The kit we mention above has stock number 8268 and it is delivered as a ProfiPACK product. Inside the nicely designed box is the excellent instructional manual, five frets with parts (one with transparent parts), set of pre painted etched parts, mask for canopy and wheels and two sheets with decals, one is with stencils and the other one is the unit markings and national insignia. You can see this kit build here!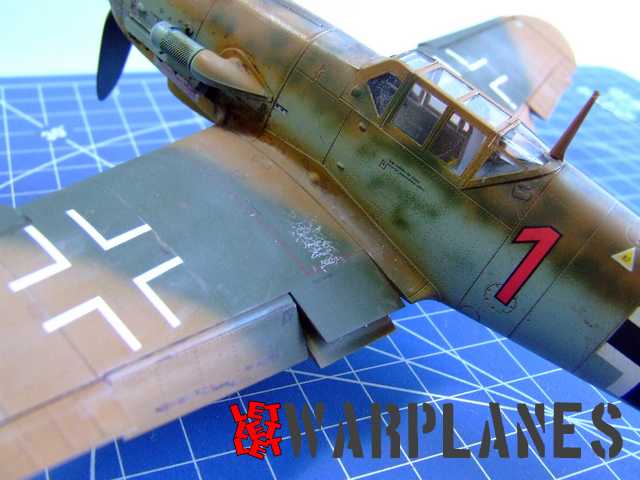 A great delivery is their Royal Class and it came out just a short time after the initial kit was delivered. This comes in a big black package with really a lot of thing inside. First of all, inside are two kits of Bf 109G with options to build from G-2 up to the last versions with higher tail. Special items inside are special glass (my sample is with JG 27 logo), small piece from the original Bf 109G-14 (!!!), small glass pot.
Build of the kit is very easy. Alignment of the parts is excellent. I started with the cockpit and it is mixed media section with plastic and etched parts inside. I have assembled it with all non painted metal parts and then sprayed it in RLM 66 color. Then I have completed this part of the build with pre painted parts. This section can be inserted into fuselage even when it is completed and this is a nice option for me. Inside the fuselage goes the exhaust, tail wheel and cockpit.
Wings are very well designed and they include separate elements for the cooler which can be adjusted during assembly into position you prefer. First to do is to paint these internal parts in RLM 02 paint and cooler mesh into metal color. Then you can assemble all of this and assembly goes really fast. Best to do is to assemble the wing and cement it onto the fuselage. Inside wings are beautifully made wheel bays with nice details. When the wings get placed on the fuselage, I have continued with other elements, first of all tail parts and then coolers, first the one under the nose and then wing coolers.
I avoided placing the rudder since I decided to do the sample kit with red rudder and it is far better to complete it separately and place it on the finished kit. I also did not place main landing gear due to the color difference; I let it for the last finishing steps.
Last step before painting was placing of the masked canopy on fuselage and painting of black primer. Note that cockpit can be open and this will show amazing cockpit interior and I do recommend you to make it in open position. I simply like to make it more aerodynamically shape.
For the final kit I decided to make kit of Bf 109G-2 trop, Flown by Oblt. Werner Schroer, CO of 8./JG 27, Rhodes, early November, 1942. It has a very attractive camouflage and another interesting thing is that Schroer was the second ace after Marceille. Airplane wears a tropical camouflage pattern.
Conclusion
Yes, it has failed in scale and some details but it is in good proportions and excellently detailed. With all other products which follow it, it is very good and maybe the best offering on the market. I would also like to point out the very easy assembly and good range of available subjects to do. You can buy kits directly here and here and we would gladly in very close future review a few more accompanied products related to this kit.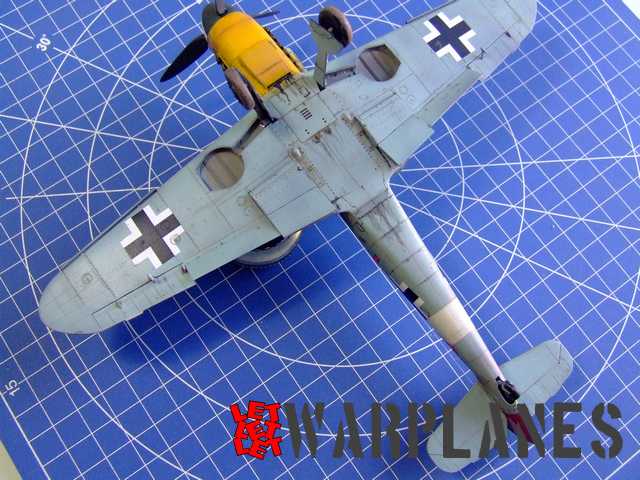 My great thanks go to Eduard for providing these products. You can order it direct here and additional info you can get here!
Srecko Bradic