CMR-206 De Havilland Venom Mk.1 – in "Swiss Air Force" service
The newest addition to the CMR family of Venom kits is CMR 206 Venom Mk.1 in Swiss air force service. Switzerland was the biggest export customer for the Venom. From 1953 a consortium of three Swiss companies built 150 FB1 (including 24 camera-equipped reconnaissance FB1R) and 100 FB4 aircraft for the Swiss Air Force, equipping 11 squadrons by 1965. These were the last Venoms in service, and were finally retired in 1983. The most distinctive upgrade was fit of the longer, turned-up nose also used on some Swiss Vampires, but the Venom were also fitted for carriage of a wider range of ordnance and could carry an underwing multi-sensor reconnaissance pod.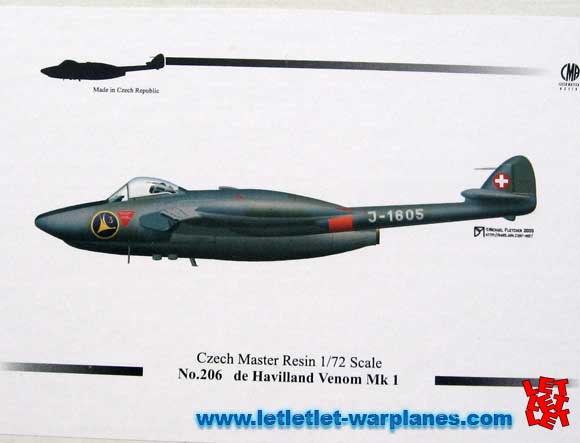 CMR kit features over 100 resin parts molded in recognizable excellent quality resin.  This multimedia kit comes with Eduard photo etched parts on two frets and masks for quick and precise painting of canopy. Resin parts produced by CMR are as usually outstanding quality with minimal molding blocks parts that need to be cleaned. Cockpit is highly detailed and once assembled and painted it looks wonderful and realistic. CMR provided two Canopies as usual for them just in case that you need to practice on one; these parts are vacuformed and with excellent transparency. Level of details on fuselage wings and tail is excellent with opportunity to leave flaps and airbrakes in opened or closed position at your choice. With this kit you get the original style fuselage without the Pinocchio nose to provide for pre-1970 aircraft that weren't fitted with IFF. There are several weapon options included in this kit and thanks to photo etched parts they can be made to look really realistic. Undercarriage is outstanding with wheel wells beautifully molded and highly detailed. Landing gear legs are molded in special CMR extra strong resin so they appear to be more than strong enough to hold the finished model.  Assembling and painting instructions are given on 12 A-4 size papers sheets, which are perfectly clear and easy to follow. Decals are precisely printed on thin paper so they shouldn't represent any problem to give a realistic finish. CMR as usual picked some interesting marking options as follows:
De Havilland Venom Mk.1 – J-1520  – Swiss Air Force, Switzerland – 'Aluminium' finish
De Havilland Venom Mk.1 – J-1547 – Swiss Air Force, Dübendorf, Switzerland – 'Aluminum' finish
De Havilland Venom Mk.1 – J-1634 – Flieger Staffel 2, Swiss Air Force, Switzerland 4. De Havilland Venom Mk.1 – J-1605 -Flieger Staffel 3, Swiss Air Force, Switzerland
De Havilland Venom Mk.1 – J-1573 – Flieger Staffel 13, Swiss Air Force, Switzerland
De Havilland Venom Mk.1 – J-1635 – Flieger Staffel 13, Swiss Air Force, Switzerland 7. De Havilland Venom Mk.1 – J-1577 – 'Phoenix 8', Phoenix Exercise, Swiss Air Force, Ambri, Switzerland, October 1979
By far most interesting marking option is "Phoenix 8" for whom CMR provided extra masks in order to simplify the painting scheme.
CMR Venom kits family is truly remarkable and by any means this kit is great addition. I can highly recommend this kit to all modelers with some experience in working with this kind of kits. This is not a kit for a beginner but surely it is a kit that every early Jet fan should have in his collection.
Sample kit provided by Petr Buchar from CMR
Darko Mladenovic