CMR-190 Supermarine Spitfire Mk.IXE/XVIE in "Royal Canadian Air Force" service
The Supermarine Spitfire is a British single-seat fighter aircraft used by the Royal Air Force and many other Allied countries throughout the Second World War. The Spitfire continued to be used into the 1950s both as a front line fighter and in secondary roles. It was produced in greater numbers than any other British aircraft and was the only Allied fighter in production throughout the war. Spitfire Mk.IX and a very similar Mk. XVI are amongst most produced Spitfire models during the World War II. Among many others Canadian pilots also flew on Spitfires and this CMR kit is dedicated to them.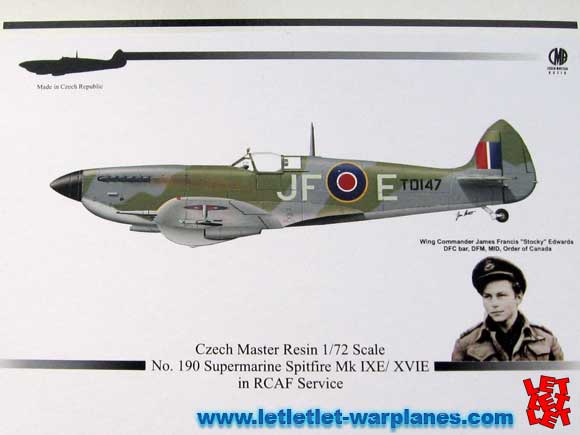 Spitfire kit made by CMR comes packed in standard old-type CMR box with all parts packed in separate clear bags in order to avoid damage. If you are unfamiliar with CMR Spitfire, when you open the box you are in for a real treat. Over 60 parts cast in cream resin, beautiful photo etched fret with over 50 parts, canopy masks, beautiful decal sheet, photographic 'In Detail' Supplement + Biography of W/Cdr. James " Stocky" Edwards etc. CMR is famous to have very nice and precise moldings as well as to work with very quality resin, so you don't have to worry about bubbles and any side effects of resin kits that are not properly produced. Panel lines are finely engraved crisp and clean and just as they should be for the scale. Producer has decided to provide three different type of wings for this kit, so in case you can build probably any model of this variant of Spitfire you decide. The cockpit is a mixture of resin for the larger parts and photo etched metal for the rest. Eduard produced photo-etch set includes: cockpit instrument panels, seat harness, rudder pedals, wheel hubs, undercarriage doors, radiator cores, cockpit walls, etc. Canopy is very nice and transparent, and in case of accident during cutting off you have one spare. Masks for quick and precise painting for cockpit canopy frame and wheel hubs should also help a lot while building this kit. Undercarriage is outstanding with wheel wells beautifully molded and highly detailed. CMR supplied various types of bomb load for this airplane including the famous 'Beer Barrel' payload.
Decals are great quality, thin and very precise printed. A great set of stencils made by Tally ho is also provided inside the package.
CMR offers makings for following war birds:
Supermarine Spitfire Mk.IXE – MK329 – 'JE-R'JR (RCAF), June 1944: W/Cdr. 'Johnie' Johnson CB, CBE, DFC bar, D.L
Supermarine Spitfire Mk.IXE – MK392 – 'JE-J' W/Cdr. 'Johnie' Johnson, 127 & 144 Wings (RCAF), January 1945
Supermarine Spitfire Mk.IXE – PT396 – 'EJC', W/Cdr. Jack Charles, Tangmere Wing, Tangmere, March 1945
Supermarine Spitfire Mk.XVIE – TB300 – 'PS-T', Grp/Cpt. Stan Turner, 127 Wing, Evere, Belgium, April 1945
Supermarine Spitfire Mk.XVIE – TD147  – 'JF-E', W/Cdr. J."Stocky" Edwards, 127 Wing, Schneverdingen, Germany, May 1945
Comparing this model with the available drawings sowed that this kit is highly accurate, and by many features probably the best Spitfire kit available on the market in the scale. Numerous details really recommend this kit to all Spitfire fans, but considering the multimedia content it surely asks for a modeler with some level of experience in working with this type of models. Surely this kit should look great on every modeler's shelf  so I can highly recommend this kit!
Sample kit provided by Petr Buchar from CMR models
Darko Mladenovic