Dora by Eduard
From my point of view, Fw190D is one of the most beautiful designed German WW 2 fighter introduced in large scale into the combat. This version was born after the decision of the German authorities to stop manufacture of the bombers and result of that was that great number of the Jumo engines become available for other purposes. Direct adaptation of the Focke Wulf Fw190 to use this engine give D model, which have interesting feature of the front round cooler, which give impression of the airplane powered by radial, not inline, engine. This new machine prove effective in the combat and they were used as fighter and fighter bombers.
In the January 2010 Eduard has launch brand new kit of the Focke Wulf Fw190D and this is continue of the very good series of the previous kit of Fw190A. This kit is in the 1/48 scale and kit number is 8184. As usual for the new Eduard products, this one coming as the Profi Pack and inside is decal sheet for the few versions of the model, protective masks and pre painted photo etched parts. Interesting to note is that kit is done in simplest possible way but simplification was not absolute possible.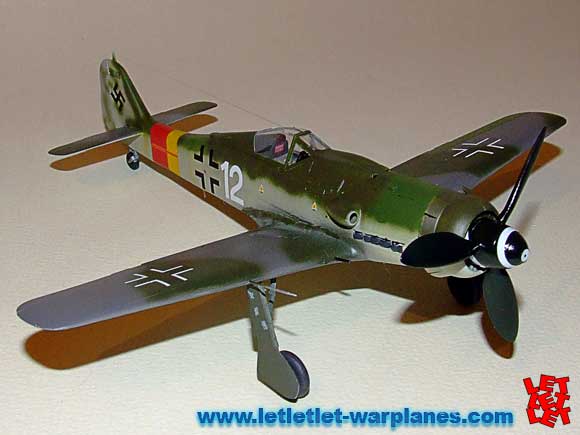 Most complex section is the assembly of the powerplant installation as well machine guns installation. At final stage they are merge into the one assembly section and it is then mounted inside fuselage. This is very sensitive job, not for non skilled modelers, but in some cases this could be skip. When kit is cemented, this parts offer very nice machine guns bay, if you decide to place top cowling open, and viewed from the bottom through the undercarriage bay, powerplant installation give nice impression.
The rest of the build are more easy and whole kit could be completed in several days, I have build this kit in five days. What is the most important is to start building from the back pages and choose which final version you are going to build. This will make later easy to follow all steps from instruction as well there is given variation of the used parts, depend of the final model. I have noted just few issues with kit, but nothing critical. First is the missing details of the locks of the engine access door at the nose bottom and the second thing is that tip shape of the sliding canopy is a little bit longer and this need little sanding. But as I said, this is nothing bad.
I did not take any measurement of the finished kit but it look very correct in shape and appearance and very pretty on desk. All camouflage schemes from instruction kit is interesting and Eduard is give top reference available in bookshop as source of the info. Focke Wulf Fw190D kit No. 8184 is excellent kit and I warmly recommend to all who like 1/48 scale as well Luftwaffe airplanes. You can buy kit direct here!
Srecko Bradic
Sample kit is provided by Jan Zdiarsky from Eduard.