CMR G-33 Blanik L-13 glider
The Blaník entered production in 1958 and quickly gained popularity as an inexpensive, rugged and durable type, which was easy to fly and operate. It was widely adopted in the Eastern bloc and was exported in large numbers to Western Europe and North America. Total production was in excess of 2650, or more than 3000 if variants are included.  The Blanik glider is an all metal two seat glider easy to control and it is suitable for basic and advanced training since it is equipped for flying in clouds and for heights up to 8.000 meters, every single pilot that flew this glider like's it. The Blanik has a semi-retractable landing gear, the wheel being embedded under the forward fuselage and a tail skid or a small tail wheel in later versions being fitted at the far rear. The Blanik glider was found in many clubs all over Europe namely Czech Republic, Austria, Germany, Switzerland, Serbia and others. Nearly half a century after its first flight it is still the most common glider in the World and probably judging to this fact it is the most successful glider built. Generations of pilots gained their first wings flying this glider.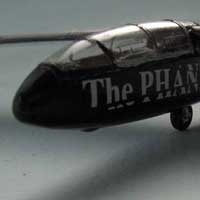 CMR G-33 Blanik L-13 glider kit is a newest addition to the L-13 family of kits produced by Czech masters Resin. It is a nice model made of standard great quality resin, like we used to from CMR with addition of small photo etched fret and masks made by Eduard. Some flesh is present on the kit but nothing a beginner modeler can't solve it took about ten minutes to clean the kit and prepare all the parts for assembling. Panel lines are crisp and subtle, level of details is great and particular attention is given to the cockpit. Photo etched parts really gave new life to this kit, they are prepainted and just the touch this kit needed to become perfect. Two vacuformed canopies are included in this kit, they are perfectly clear and using the masks included in the kit can be painted easily. Assembly instructions and painting guide are well drawn and easy to follow; CMR also included few pages of walk-around and close-ups that come handy when building a kit.
Decals options are for six L-13
L-13 Blanik – OK-4831 – Aeroklub Zbraslavice, Czechoslovakia, 1979
L-13 Blanik – N59228 – Mississippi State University Soaring Club, Starkville, Mississippi, USA, 1986
L-13 Blanik – YU-5331 – 'The PHANTOM of the SKY', Belgrade Sport Airfield Lisiciji Jarak, Serbia & Montenegro, 2005
L-13 Blanik – C-FCVQ -Bromont Airport [ZBM/CZBM], Quebec, Canada, August 2005
L-13 Blanik – OE-0758 – 'Red Bull', Aigen im Ennstal [LOXA], Austria, September 2007
L-13 Blanik – N2414J – 'N3TR', Pemberton Soaring Centre, at the Arlington Fly-In, Washington, U.S.A., July 2008

Building this kit is rather easy; each wing is a part for itself as well as horizontal stabilizers, fuselage is molded as a separate part, when you prepare your kit for gluing it takes just five minutes to glue all the parts together. Then comes the cockpit that takes some time to finish only because you need to paint it before proceeding to the next level which is installing the canopy. Only after the kit is put together you will come to the difficult part… Which color scheme to choose? Personally I had no doubt in my mind my choice was YU-5331 The Phantom of the sky wearing interesting scheme consisting of Gloss Black and Silver and very interesting markings. Glider was produced by LET back in 1971, currently owned by Aero-club Vaja and stationed in Zrenjanin Sport Airfield Ecka. I must admit this is the first glider kit I ever built, but certainly not the last, my eye is set on another CMR G-33 L-13 kit which I intend to finish with Austrian markings and beautiful Red Bull scheme, this time with open canopy. Decals are top quality and no decal solution is needed, they are very thin and perfectly printed.
I like this kit and certainly I was enjoying building it, it is a nice break from warplanes I usually build. Thanks to CMR I discovered a whole new world of models I would build. Gliders are easy to build, they don't take much time to work on them and a modeler of average competence and enthusiasm could easily build a very satisfactory model, painted and decaled, out-of-the-box in a few days.
This product is highly recommended!
Darko Mladenovic
Sample product provided by Peter Buchar from Czech Master Resin