New Luftwaffe paints
Even after few decades of intensive work on Luftwaffe subject, there I think about many of books and magazines, some paints are stay still unreachable for the wide modelers use. In general all main Luftwaffe camouflage and markings colors are covered by various manufacturers so there was not problem at all to get it. There was available either as acryl or enamel paints and there was always various level of authentic of paints, depending of the source for the paint. Problem is about some another colors, used limited by the end of war, color used for basic protection as well non military paints.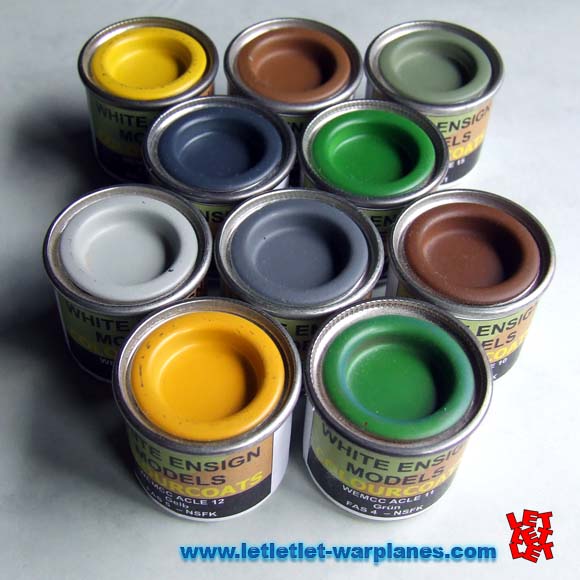 Final and excellent reply in this area coming from White Ensign. White Ensign is well know specialist name in the field of modeling colors and we have pleasure before to present some of their colors. Now in addition to the excising Luftwaffe color set, they have in offer limited edition paints for Luftwaffe but also paramilitary as well sport planes. Lets first list here this new colors:
AC LE 03 Limited Edition – Zitrongelb RLM 1012
AC LE 04 Limited Edition – Rot RAL 3000
AC LE 05 Limited Edition – Graublau RAL 5008
AC LE 06 Limited Edition – Grün RAL 6010
AC LE 07 Limited Edition – Braun RAL 8003
AC LE 08 Limited Edition – Rotbraun Flieglack 7142
AC LE 09 Limited Edition – Elfenbein FAS 1
AC LE 10 Limited Edition – Braun FAS 3
AC LE 11 Limited Edition – Grün FAS 4
AC LE 12 Limited Edition – Gelb FAS 5
AC LE 13 Limited Edition – Grau FAS 6
AC LE 14 Limited Edition – Kadmiert
AC LE 15 Limited Edition – Grün IKAROL 201
Interesting to note is that Ikarol is one of the paint manufacturer in Germany and bottom mentioned color is used as the primer protective color. Paints in the list with FAS in its name belong to the small chart of paints used primary for the gliders and sport planes and they are from NSFK chart.
Colors are excellent in all means of this term! First at all al shades are correct in regard to the all available documentation I was able to get for reference. Second- they are work well and excellent flown through small airbrush nozzle. I did not try to hand brush wide areas but they also work very good for small parts where I have made some brush stroke.
What to say- this is something which you should not miss!! Limited edition, quality production, all say that you should have this set.
Srecko Bradic
Sample color set is provided by Dave Carter from White Ensign