Bordwaffen MG 15 and MG 81
The MG 15 was a 7.92 mm (0.31 in) machine gun designed specifically as a hand manipulated defensive gun for combat aircraft during the early 1930s. By 1941 it was replaced by other types and found new uses with ground troops.
Calibre: 7.92 +/- .04 mm
Cartridge: 7.92×57 mm Mauser
Round weight: 35.5 grams (cartridge 24 grams, bullet 11.5 grams)
Muzzle velocity: 755 m/s
Rate of fire: 1000 (possibly up to 1050) rpm
Length : 1078 mm (without attachments)
Barrel length: 600 mm
Weight unloaded with gunsight and cartridge bag: 8.1 kg
Weight loaded with gunsight and cartridge bag: 12.4 kg
75 round Magazine unloaded: 2.27 kg
75 round Magazine loaded: 4.24 kg
Weight of the 2-part loader: 0.72 kg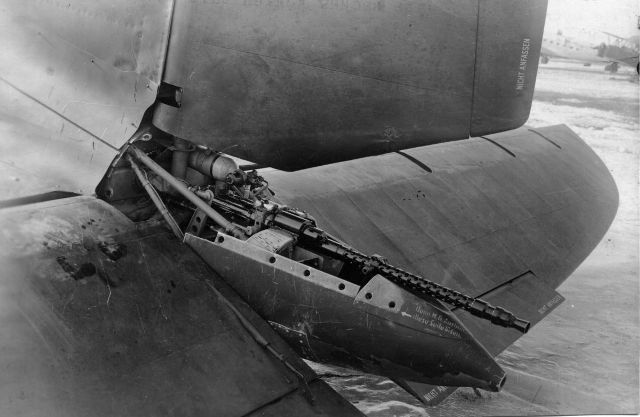 The MG 81 was a belt fed 7.92 mm machine gun for fixed or flexible installations in World War II Luftwaffe aircraft, replacing the older drum magazine-fed MG 15.
The MG 81 was developed by Mauser as a derivative of their successful MG34 infantry machine gun. Development focus was to reduce production cost and time and to optimize for use in aircraft. Developed in 1938/1939, it was in production from 1940 to 1945.
A special twin-mount MG 81 Z (Zwilling-twin) was introduced in 1942, which paired up two of the weapons on one mount, to provide even more firepower with max 3200 rounds/min without requiring much more space than a standard machine gun.
MG 81
Weight : 6.5 kg
Length : 915 mm (965 mm with flash hider)
Muzzle velocity: 705 m/s (sS ammo), 760, 785 or 790 m/s, depending on ammo type
Rate of fire: 1400 – 1600 rpm (sS ammo)
MG 81 Z
Weight: 12.9 kg
Length : 915 mm (965 mm with flash hider)
Muzzle velocity: 705 m/s (sS ammo), 760, 785 or 790 m/s, depending on ammo type
Rate of fire: 2800 – 3200 rpm (sS ammo)
Nico Braas