Folland Gnat- Petter's lightweight fighter
W.E.W Petter was a brilliant aircraft designer, responsible for some very well-known British aircraft types. When working at Westland he designed the Lysander communication plane and the quite unorthodox Whirlwind twin-engine fighter. After the war he joined English Electric and gained again fame with his design for a twin-jet bomber: the Canberra.
He left English Electric to join the relatively small aircraft manufacturer Folland for another ambitious project: a light-weight fighter with the same performances as the Hawker Hunter, but much smaller and simpler to construct at much lower costs. Designated as the Folland Fo.139 and appropriately named 'Midge', this small jetplane made its first flight on 11 August 1954. The Midge was nothing more than a 'proof-of-concept' prototype without any armament and with its Armstring Siddeley Viper jet engine of only 744 kg thrust it was definitely underpowered.
It crashed on 6 September 1955 when flown by a Swiss pilot., who was tragically killed. The accident investigation concluded the crash was caused by human error… A further operational development was the slightly larger and heavier Fo.140 'Gnat' with a new Armstrong Siddeley Orpheus engine giving almost double the thrust of the Viper. The Gnat made its first flight on 18 July 1955 with civil Class-B markings G-39-2.
During the flight test phase some teething troubles had to be solved. During this period the Gnat prototype crashed when it lost on 31 July 1956 both parts of its horizontal tail because of flutter. Folland's test pilot Ted Tennant successfully managed to bail-out using the Gnat's light-weight ejector seat. When all problems were finally solved the R.A.F. ordered a small batch of six Gnats (with serial nos XK724, 739, 740, 741, 767 and 768) for operational evaluation. However, no further orders followed and the Gnat fighter was never used by the R.A.F. Also attempts to present it as a NATO lightweight fighter/fighter-bomber failed since Fiat's G-91 was selected for this purpose (although at the end only Italy, Germany and Portugal used them!). Still, Folland had some success with the Gnat when Finland ordered a small batch of 12 machines. They were used by the Finnish air force as a fighter while some of them were also converted for reconnaissance work with nose-mounted cameras.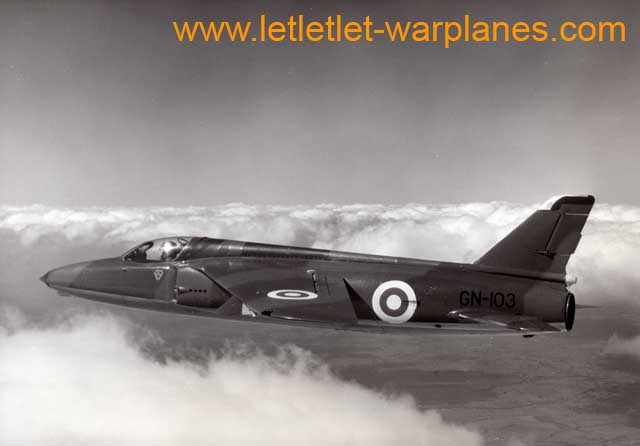 Also the Yugoslavian air force ordered the Gnat, though this was limited to two machines only. Folland had more success in India where it was later licence-manufactured. A more developed version with more internal fuel went into production in India as the Ajeet. The Gnat gained some success during the India-Pakistan war where it showed to be more than a match for Pakistan air force F-86 Sabres. In fact, the Ajeet got a reputation as a 'Sabre-slayer'!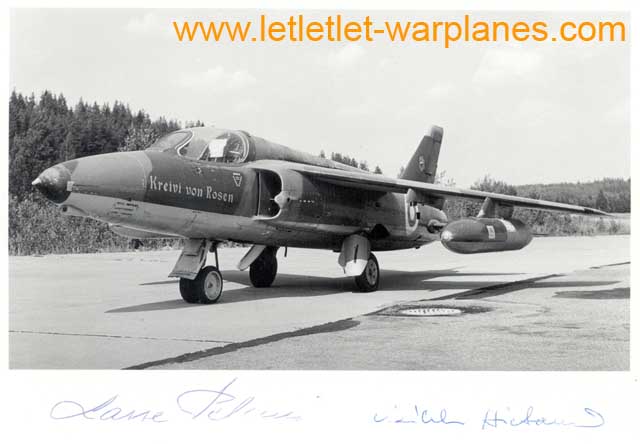 Although the Gnat was not used by the RAF as a fighter, an improved two-seat version went into production as an advanced trainer. In total more than a hundred machines were supplied. The RAF Gnat trainer soon became famous when the R.A.F. aerobatic display team 'Yellow Jackets' used it for their shows. Later, the name of this team was changed into the more known 'Red Arrows'. The Gnats were re-painted in a new bright-red colour scheme, that is still in use today on the BAe Hawks!
On Internet, there is a lot of information on the Gnat and that is why this story is kept short! More can be found on this selection of websites:
http://www.warbirdalley.com/gnat.htm
http://www.bharat-rakshak.com/IAF/Images/Vintage/Fighters/Gnat/
http://www.faqs.org/docs/air/avgnat.html
http://www.vectorsite.net/avgnat.html
http://www.stormjager.nl/fotoalbum/leeuwarden%202008/album/slides/55%20-%20Folland%20Gnat%20Synchro%20Pair%203.html
http://www.elisanet.fi/kurt.ristniemi/WWV/gnat/gnat.htm
http://www.bharat-rakshak.com/IAF/Galleries/Models/Polly/013/
http://www.aircraftresourcecenter.com/Rev3/2001-2100/rev2017-ProResin72039/00.shtm
However, there are much more sites giving Gnat details and photos. Google gives in total 20,800 hits for this subject!
The Aeroclub 1/48 scale vacform model kit
The Gnat has been introduced as a model kit both by Airfix and Matchbox. Both companies had very nice 1/72 scale kits, but strictly for the two-seat trainer version. In particular the Airfix kit must be easily available on aviation markets nowadays, and it definitely is not a rare item.

The single-seat fighter is much less represented in model form. Aeroclub offers now a kit at 1/72 scale, but many years ago they ever released a very nice vacform kit at 1/48 scale. Even on this larger scale, the Gnat has only a length of 18.5 cm! This kit has sharp and accurate outlines and it must be quite straightforward to build. Aeroclub included full decals for the Finnish air force Gnat and serial numbers for the R.A.F. and Indian machines. As we may conclude from the photos published here, the 1/48 Gnat could be made into a very nice model with some care. Unfortunately it must be regarded as a rare item since production of this vacform kit was in low numbers only.
Note:
Interested in a high-resolution image of one of the Gnat photos as published above? Contact web-administrator!
Nico Braas
Photos- Nico Braas except different mentioned Digital Art- Srecko Bradic