Bell P-39 Airacobra 1/48 Eduard kit 1128
My personal opinion is that there is no need to said that "Eduard" scale model of the Bell P-39 Airacobra in 1/48 scale as well it is well known and rated as top product. From time to time this kit is refreshed with new set of decals and in the November was released one very nice pack of this kit. But before I give impressions about this kit I would like to provide few words about this very interesting fighter design.
Bell P-39 Airacobra is one of the most interesting fighters projected in USA. Designer Larry Bell said:
"We went back to fundamentals."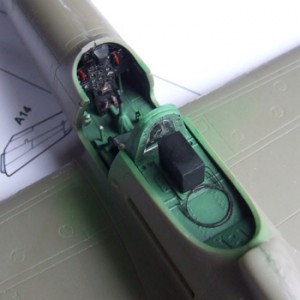 There were fire power, good pilot visibility and good landing and ground characteristic. By locating the engine behind the pilot and transmitting its power through a drive shaft to a propeller gearbox in the nose, fundamental was achieved in one stroke. A 37 mm cannon installation and two 12.7 mm machine gun in the nose plus multiple wing gun installation provided the fighter with the fire power. Pilot could see in all directions with minimum of obstruction. The answer to the safe high speed landing and improved ground characteristic was found in the tricycle landing gear.
Same kit is product number 1128 and it feature two kits inside- this is part of the well know dual combo pack featured by "Eduard". Inside are two separated packs for building of two kits. This include also one large sheet of the unit and national insignia, small sheet of decals for the stencils, two types of photo etched sets… And something interesting- they also provide nose weigh important for proper stand of this tricycle kit. So no hanging around in the fishing accessories!
Best at all is that decals provide samples from the very operational units so this is great hits for all those who like to build front line faded and weathered kits. In general there is decals for the version operated by the USA and decals for samples operated by French force.
Building could be described as really straightforward. Plans are clear and informative so from the first step to the last every detail is clearly presented. Off course, some steps have to be changed in regard to the modeler's personal experience and style. For example I have put machineguns after the final painting and decaling and then this was flat varnished with flat coat. Image present very detailed interior and final kit with closed cockpit and in very streamlined form. I more prefer streamlined final build but for those who like to clear present all interior details there is option to left cockpit side entry door in the open position and show full array of the inside details.
Most important at all is that no matter that extra details are provided in etched sets, all of these parts exist as molded plastic parts and they are very good detailed so it is your choice to take full photo etched upgrade or use basic plastic parts which is very good. In this build I have a little play and use both of them as well for some parts I more prefer plastic parts but for some etched parts. In whole build I did not have any problem and critical moment and for that complex kit it is very easy to build.
Maybe I should now give high recommendation for this kit but instead of that I will point that this is best complex starter kit. If you did not build ever any complex kit I recommend you this kit as best possible start point. Excellent mold parts, all parts fit perfect, easy to follow instruction, surface details made to the last manufacturing level and standard and simple but interesting camouflage. Don't miss these features! And for sure even the less experienced modeler could made award wining model with easy.
Srecko Bradic
Sample kit was provided by Jana Sulcova from "Eduard"