Iljusin-2 Stormovik Eduard 1/48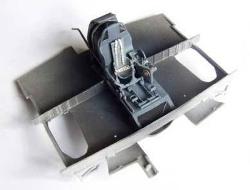 Roots of the strike airplane dedicated for the close support and ground attack are going back to the WW1 and great project made by Junkers in Germany. This plane J-1 featured first time full armor front fuselage which completely enclosed engine, fuel and crew of two men. For that time, pioneer in the development of design, tactics and relatively very weak engines this was outstanding project which was operationally deployed to the Fliegertruppe. In the early '30 in the USA Curtiss had made one very nice airplane for close support A-8 Shrike. In regard to the German project from WW1 this plane did not have any armor protection but this plane and units are greatly developed tactics of low level flying just some above the surface. As well Junkers come too late to perform its outstanding feature in combat, USA combat plane was already obsolete when the WW2 had started the world glory to became the first one combat proof attack plane belong to the Soviet project of Il-2. Projected before the war, this plane was produced in greatest number then any other plane in the WW2 and used in very daring close support actions. Plane feature strong armor protection and with the good tactics it bring nightmare into the enemy lines. A number of crew of Il-2 called "Stormovik" was decorated with the medal of Hero of Soviet Union.
Scale kit of Il-2 in 1/48 present new release of "Eduard" for the January 2007. Basic tool for the kit is "Accurate Miniatures" kit and in new release this kit get a great number of photo etched parts. Kit No. 8165 present well knows "Eduard" professional series which are the best offer on the kit market. This kit present the early model of the actual attack plane which have more strait outer wings then the later model.
Inside the large kit box is the couple of frets with grey injected plastic parts, one fret with the transparent parts, one set of etched parts, protective masks, decal sheet, assembly instruction leaflet and small booklet. This small booklet is the main assembly instruction guide and it include on the first page brief and precise history of this airplane with technical data. Other page include step by step guide of kit assembly with all data about the internal finishing as well incorporate etched parts into the main plastic build. Rest four pages of this small booklet belong to the camouflage schemes for the kit finishing. "Eduard" kit contains decals for the four different planes but with option to make fifth plane in the provisional winter camouflage and this is described on the first page.
The same process of build is very smooth and easy and I have feeling like I have made kit from "Weekend Series". Final result is one large and very fine kit and I hope that "Eduard" would not stop with this release but will bring to us more and more new variants of this great plane.
Srecko Bradic
Sample kit were provided by Jana Sulcova, from Eduard