Corsair quick mask CX182 1/72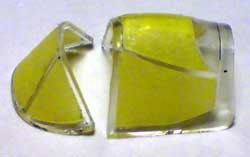 Standard feature of all "Eduard" scale kit is the small sheet of protective mask. For a years modelers search for the best solution to protect most sensitive area of their kit- plastic transparencies. The same protection is not problem during the same stage of assembly but becoming more critical in the final stage of painting and finishing.
"Eduard" have solution where was incorporated standard materials for the protecting in the paint industry with the computers controlled cutters. Result is the very precise and useful small after marker product which is not very important part of every modeler's project. Every month "Eduard" releases new set of protective mask and in the March 2007 product which catch out eye is the CX 182.
Under this designation is product dedicated to the one of the best kit of the F4U-1a Corsair in the 1/72 made by famous manufacturer from Japan, Tamya. Everybody who has seen this kit know how the quality is this kit and one of the welcome add is the protective mask. The same protective mask includes pre cut shapes for the main object, cockpit canopy but also some other small details like the wheel protection. These give nice advantage as well first the wheel hub is going to be paint first and then protected and spray the rest of the part.
Image show how this mask set look like and some of the major step of their application. There we have concentrated on the same transparencies protection. How the same application going to be made depends of the same modelers approach. Here the mask is placed on transparent area of the canopy before the canopy was cemented for the fuselage. No matter when you place this mask it is important to state that edges of the mask have to be pressed down to the surface and secure from any possible leaks. Use some small wood stick for this and even matches could work well.
Now model is get over it all what it need for the finishing- paint and clear final cote. After that, when the surface is dry, protective mask can be removed. Result is as you see clean surface with sharp edges. Use sharp wood stick to remove this mask.
Mask like this make modeling really enjoying and Corsair to look sharp and precise.
Srecko Bradic
Model and Images- Dejan Ivanovic
Sample mask was provided by Jana Sulcova from "Eduard"