'Alle hens' van 320 Squadron- All hands of 320 squadron
The Dutch author Nico Geldhof concludes in this very recently released book the story of Dutch 320 Squadron during the second world war. In his previous two volumes he has given extremely detailed information on the aircraft and equipment (Vol.1) and on military operations (Vol.2).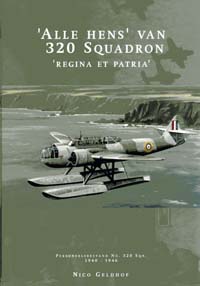 In this last part of this impressive 'triliology' the author gives a detailed account on all people who were involved in 320 squadron (and the earlier 311 squadron). Other that the two preceding volumes, it is no reading stuff for a rainy day since it only gives lists of names and listings of other relevant details. As such, the book must strictly be regarded as a pure historical reference work!
Details are given in the following chapters:
-Crew list of 320 squadron over the period 1 June 1940 until end of May 1945
-Commanders of 311/320 squadron over this period
-Flight crew members of Dutch nationality assigned to the flying service
-Overview of Belgian, British and Commonwealth crew members at 320 squadron
-Personnel of 320 having a non-flying status
-RAF technical and ground personnel being part of 320 squadron
-Crew members during the Mosquito conversion training at RAF stations Croft and Middleton St. George
-'Roll of honour'
-Number of operational flight hours
-Medals given to personnel of 320 squadron
-Daily orders
-Details from 320 squadron guest book
-Overview of all aircraft types assigned to 320 squadron
-A very detailed register on all names
-Comparison of ranks
The book is illustrated with many photos of personnel both from public and private sources. All three volumes in total contain some 1100 pages on the history of this squadron during the second world war. As such we must regard it as the ultimate series of books on this subject! Just like the other two volumes, also this book is written in the Dutch language.
Book details:
Title: 'Alle hens' van 320 squadron
Author: Nico Geldhof
Publisher: Geromy B.V., Gageldijk 83- P.O. Box 1040, 3600 BA Maarssen -The Netherlands
Details: A4 size, hard cover, 148 pages with many black and white photos
Website: www.geromy.nl
ISBN: not given
Price: EURO 29.50 (excluding shipment costs)
Nico Braas
Sample publication is provided by publisher.