Eduard remains a modeler's best friend when update sets are what we talk about. It's impossible to count what they have released until today and one of the very interesting is the update set for the F-35 kit in 1/72 scale, released by Academy.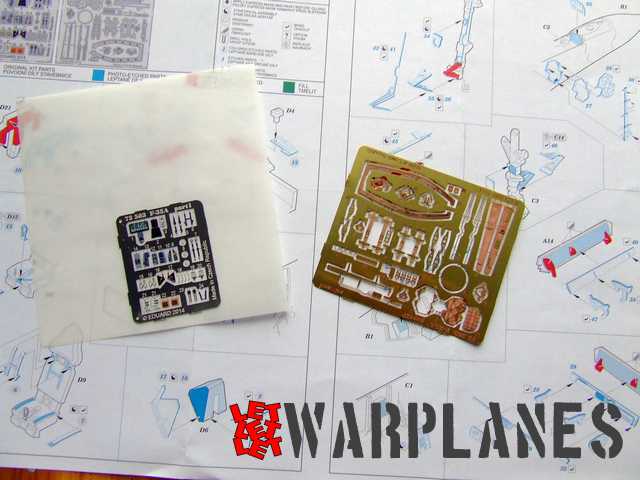 The set we review here is their set 73 503, for F-35A in 1/72 scale from Academy. This set comes in a plastic bag (with a piece of cardboard inside to protect the thin metal sheet from damage… ) and inside are two sheets of etched parts as well as the instruction leaflet. Etched sheets are dedicated for the cockpit interior, landing gear, weapon bay, access ladder and one part to close engine. One set includes painted parts and it is steel and the other is brass and no painted parts. All those familiar with Eduard etched sets know that those painted set are in most known cases for the cockpit interior and not painted parts are mostly exterior parts.
Most of the work is on the cockpit and before you start work you need to clean up the instrument panel as well as the consoles on the side from the plastic elements and then to paint all cockpit in grey and black. Before you paint, please place on the floor the etched parts for controls, they are in cockpit color. Also you need to assemble the pilot seat and paint it. Seat is in general black but there are samples with other colors (check out images before considering final paint). When paint is dry, you can complete placing of the etched parts on cockpit panels and the seat. Cockpit interior also includes a few parts which are going on the cockpit canopy, this is frame at the bottom and two handles inside.
Landing gear includes just a few parts and they are easy to include, note to trim a few extra elements before that. Several more parts are to be used inside the armament bay and they are all in the interior color. Only part which needs to be placed at the very end of model build is the retractable ladders on the aircraft side, which is done from doors and ladders as well a small cover for the engine (if you decide to use it).
This is a small but effective set which will bring extra life to this kit from Academy. I warmly recommend this set!
Great thanks to Eduard for the free sample of set and Hobbycentrum for the free sample kit of F-35 for test build. Please see also this pdf book of F-35.
Srecko Bradic