AZ Model 7301 Spitfire mk Va 1/72
The basic Mk V was a Mk I with the Merlin 45 series engine. This engine delivered 1,440 hp (1,074 kW) at take-off, and incorporated a new single-speed single-stage supercharger design. Improvements to the carburettor also allowed the Spitfire to use zero gravity manoeuvres without any problems with fuel flow. Several Mk I and Mk II airframes were converted to Mk V standard by Supermarine and started equipping fighter units from early 1941. The majority of the Mk Vs were built at Castle Bromwich. Continued with the Type A wing with 8 × .303″ Brownings. This version could reach a top speed of 375 mph (603 km/h) at 20,800 ft (6,300 m), and could climb to 20,000 ft (6,100 m) in 7.1 minutes. A total of 94 were built. One well known VA was W3185 D-B flown by Douglas Bader when commanding the Tangmere Wing in 1941. He was shot down in this aircraft (possibly by "friendly fire) during a "Circus" (a wing of fighters escorting a small number of bombers) over Northern France on 9 August 1941 and spent the rest of the war as a POW.
AZ Model kit
AZ model Spitfire mk Va kit comes packed in an end opening box with beautifully designed box art. Kit is beautifully molded in dark grey plastic. The box contains 39 plastic parts, one resin part and one clear part for canopy that is injection molded. There is some flesh present as well as some sink marks but they are easy to clean. Level of details is just enough and panel lines are crisp, clean and just as they should be for this scale. Fuselage halves are separate parts and when I tested the fitting they fit well. I tested the wings fitting with fuselage and they also fit well but some adjustment is needed to make a perfect fit. Cockpit is just great on this kit, maybe some sink marks and ejector pin marks can make some problems, but nothing an average modeler couldn't solve. Anyway this is a short-run model so bare it in mind when you start building this kit.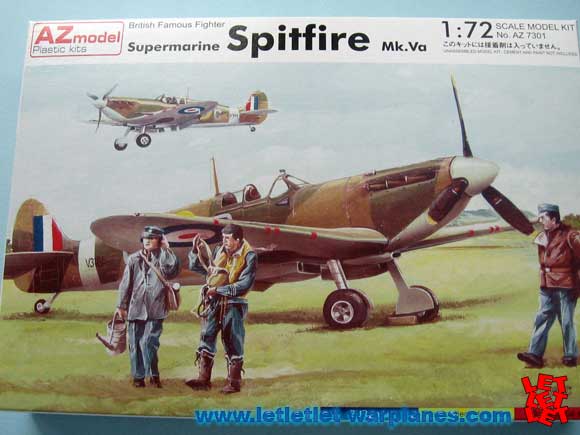 Canopy is nice clear with good transparency. Instruction sheet is printed in two pages A5 format and it is easy to follow. Decals are well printed and there should be no problem working with them. Four decal options are present and for me, by far most interesting is option for W3185 D-B flown by Douglas Bader. Painting and marking instructions are printed on the back of the box, and stencils placements are printed on the instruction sheet.
This is nice kit, and I warmly recommend it to all modelers interested in a subject no matter how experienced they are. Kit is simple, would look great on a shelf and perhaps with a little effort it can be made to be a competition winner model.
Darko Mladenovic
Sample kit is provided by Jaroslav Osten from AZ Models