AZ model Zlin Z-50 M 1/48 cat no Az 4823
The Zlin Z-50 is a aerobatic sports plane built by the Zlin Aircraft company. Development of this single seat aerobatic airplane begun back in autumn 1973 in Moravan Otrokovice in Czechoslovakia. The design team was headed by Jan Mikula, a noted Czech designer. During the design phase, computer optimization was used to achieve the desired aerodynamic characteristics. The principal goal was to determine the optimum engine and propeller combination for this aircraft AZ model 4823 represent version "baby fifty" – Z-50M with weaker Avia engine M-137AZ with 132 kW (180 PS). It was constructed for replacement older and inconvenient Z-526AFS, which were often converted to N (normal) category and are still used as a tug planes on many aero club airports. Z-50M is able to fly from +7G to –5,5G. There were only eight Z-50M machines manufactured.
Kit
AZ model kit Zlin Z-50M features 42 parts casted in grey plastic, two resin parts, one clear plastic canopy and a small photoetched fret. Zlin is packed in a standard AZ model box with nice color art and painting guide on the back of the box. Surface details are nice but bare in mind that this is a short-run model so it needs some additional work in order to get the best you can from it. Pin marks are present on the kit but fortunately on the inside parts that will not be visible once the kit is done. AZ has a pretty soft plastic so removing the pin marks is not a problem. Cockpit is well presented and it should look rather nice once it is finished and photoetched parts like instrument panel and seat-belts should make pilot's office great. Canopy is good and very transparent and dry-fit test showed it would fit well. Fuselage and wing surfaces show some very nice and crisp panel lines as well as rivet details, and I really like this feature. Since I started building this kit I can recommend to double test dry fitting of the parts prior the gluing since kit requires some trimming especially with wings and for sure you will need to use some filler on wing-fuselage joint. Resin spinner and propeller are nicely molded with small molding blocks that can be easily removed.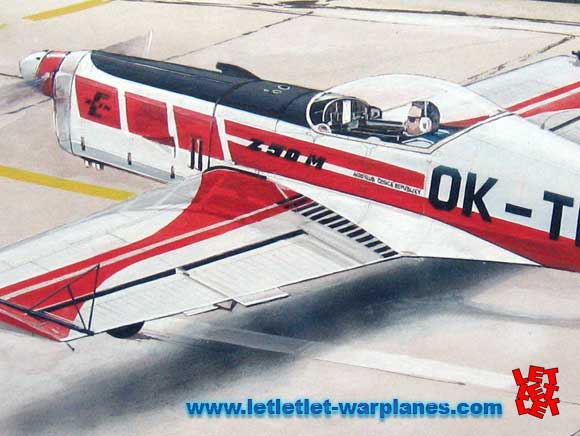 Marking options are for three Zlin Z-50M's:
Zlin Z-50 M Czech Republic Aeroclub
Zlin Z-50 M Morska Sobota Aeroclub Slovenia
Zlin Z-50 M South Africa
Decals are well printed and registered, with nice thin film and I am sure they would look great on the model.
As conclusion I can say that this kit is really nice, definitely not for quick build but once it is finished it would catch spectators eye. I can recommend this kit to all modelers interested in civilian airplanes.
Darko Mladenovic
Sample kit is provided by Jaroslav Osten from AZ Models