Schleicher Ka-6 Rhönlerche 1/72 resin kit CMR
This kit was released by the end of last year in the CMR series of gliders. As usual for CMR it is a nice little kit with much detail included. Ka-6 was a common sight in the fifties and sixties as a standard glider-trainer for many gliding clubs until it was replaced by the Schleicher ASK-13. Resin kit is well manufactured with sharp and crisp details. Canopy is in transparent resin and comes in two parts. Best method to glue these two parts is using wood-glue instead of polyacrylic glue.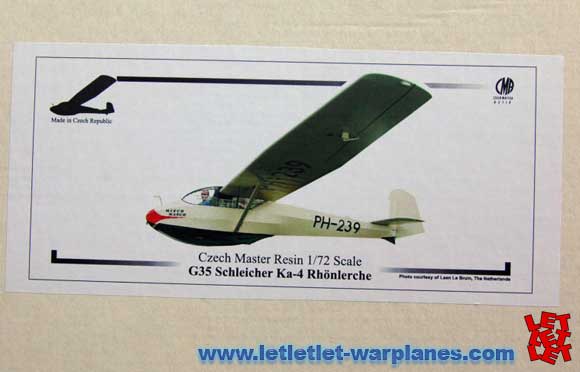 Instructions are given in ten pages with many photo details. Kit is very straightforward to build and although photo-etched parts are provided for the interior it must be realized that there will be very little to see if  'canopy closed' is chosen as an option. Kit also contains templates for canopy frames, but from photos it will be evident that at least it did not have external framing! I would advise to leave canopy as it is! Surfaces need to be mildly sanded before final painting to represent woven and doped fabric surface. Here I would advise not to use airbrush but normal medium-size hand brush. I think airbrushing will give a very unnatural smooth coating!
Box-art is for Dutch Ka-6 PH-239 owned by mr. Leen de Bruin. Plane was owned previously by several members of Dutch gliding club ZC FLEVO based at Biddinghuizen. It was originally a club-owned trainer from ZC FLEVO, but after a crash it was rebuilt by club members using parts from various other crashed or derelict Rhöns. That explains the German name 'Misch Masch' which literally translated means 'Mixed Mass'. After rebuild it flew again in 1992 and as a former ZC FLEVO member I can at least say that I already flew this plane when the present owner Leen still was a young kid!
Except for PH-239, there are decals for several other Rhöns on the decal sheet.
This is an excellent and high-quality addition to the 1/72 range of CMR glider kits.
For more details, see CMR web site Price of this kit is around EURO 15 without P&P costs.
Nico Braas
With special thanks to Petr Buchar from CMR for providing the kit for review