Fokker D.VII in Finland
Splinter is well know camouflage type where the camouflage colors are applied in the large geometrical shape over the entire airframe. Well known user of this type of camouflage was German Luftwaffe before and during the WW2 but there is also other operators who have use this type of the camouflage in the limited service. One of the early practice of this camouflage was the splinter camouflage used on the Fokker D.VII from the Finland aviation and this pattern replaced original lozenge camouflage.
After the end of WW1 there was a number of available German airplanes and Finland had an interest to obtain this machine for their air force. The whole process was plagued by France which had primary interest to sell their own airplanes. Finally in 1919 three OAW built machines arrived in Utti. These machines encountered propeller troubles but no matter of that, they were put in active service and French pilots were to fly them in Finland. Interesting to note that this Fokker D.VII performed first aerobatics in Finland. Two machines was lost in 1920, one was lost in January and the another in February. Remained Fokker D.VII serial 1C 352 was some later recoded into 1C 357 and finally to 1.D.357 This machine was damaged in July 1922 due to a pilot error. The airplane was repaired and it received new experimental splinter camouflage of four colors. It was assigned to the Flying Unit 1 at Utti and was used for fighter training. The aircraft was lost due to a very bad weather on the 30th of January 1924.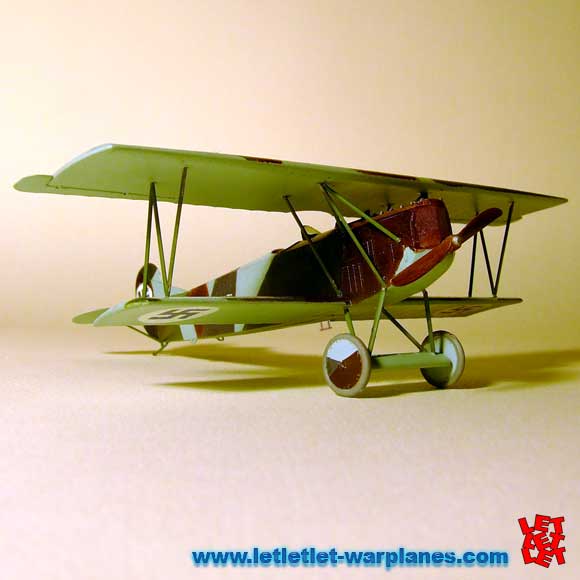 Camouflage used on this sole Fokker 1.D.357 was so attractive that I have decided to make a scale model of this plane. Choice for the basic kit was easy, I decided to use an Eduard 1/48 kit as it is very good kit and easy to built. With exception of the camouflage, the 1.D.357 also differs from the wartime machines as it has machine guns removed and an area was covered with panel and it has a windscreen. This small modification does not require much of time.
Most interesting part of this model building project was the final camouflage painting. Camouflage colours are described as Vaalean sininen (Light Blue FS 35526), Vihreä (Kaki FS 24098), Mustan ruskea (Dark Brown FS 10032) and Tumman sininen (Dark Blue FS 35045). All of these paints I have found in the range of the Humbrol and Vallejo acryl colours. I used Light Blue as base coat and then with intensive protection with tape, I have sprayed all of the other colours. As images of the original plane show some amount of dirt, I have taken wash all over the surface to get the desired look.
The national insignia caused real trouble. As I did not have any good decal in my spare box, I had to do them with template. First coat was white base and over it was painted blue swastika. On the fuselage was serial 1.D.357 and I had to make it with combination of the spare decals and brush retouch.
The final result was a very nice looking model and this is one of the most favorite building work related to WW1 fighter types.
Srecko Bradic
This model build is sponsored by Eduard.
Special thanks to the Göran Bruun and Pentti Manninen for their great help!