Fokker S-14 Machtrainer by Nico Braas and Willem Vredeling
Last week, on 22 October 2009 the first batch of the Fokker S-14 book finally arrived at the publisher's office at Maarssen. First book sales took place on Saturday 24 October during the large IPMS Euro Scaling event at Nieuwegein. The book is the result of almost 3 years of intensive research both by me and co-author Willem Vredeling and it is the final reference work on the genesis, development, limited production and final failure on the international market of this jet trainer. In fact, the S-14 was the first jet trainer specially designed for this purpose; all other earlier jet trainers were no more than two-seat versions of operational jet fighters!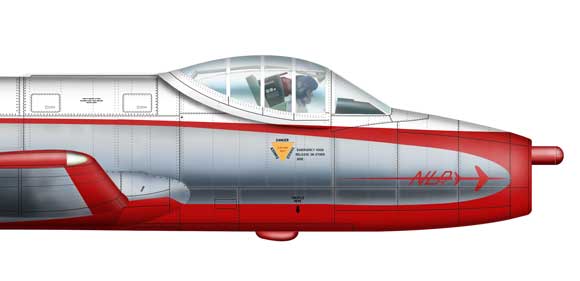 The various book chapters give details on:
–All Fokker S-trainer types, including  the projects that were never built. In fact, detailed 3-view blueprint drawings on the un-built projects are here given for the first time.
-Genesis, early development and mock-up construction of the final S-14 with many unpublished details on the various design studies preceding the S-14.
-Early flight-testing of the S-14 prototype and developments on the international market. Possible licence construction in the U.S.A and Brazil, that was eventually never realized, is extensively discussed with many details never published before.
-Operational career of the Derwent-powered S-14 at the Koninklijke Luchtmacht. This includes a separate short chapter written by an ex-pilot who has flown almost a thousand hours on the S-14.
-Second life of the prototype as a general-purpose high-speed test plane at the Dutch Aeronautical and Space laboratories NLR. Also here many details never published before are given.
In the Annexes detailed blueprint drawings are given on all  S-14 variants and the preceding designs. There also is an extensive colour section with rare colour photographs and a number of highly detailed profiles (made by Srecko Bradic!).
Of course, I am not totally objective as the author, but I can only say it is a GREAT book fully worth its price!
Main text is in Dutch language with a very extensive multi-page summary in English. Photo and drawing descriptions and Annexes are bilingual in Dutch/English.
The book contains some 170 photographs,  including 70 from private sources that were never published before and an additional 60 blueprint drawings.
Book details:
Title:                      Fokker S-14 Machtrainer
Authors:              Nico Braas and Willem Vredeling
Type:                     Hardcover, A4 size on high-quality glossy paper
No. of pages:       200
ISBN no.:             978-90-804981-5-0
Publisher:             Geromy, Gageldijk 83 – Postbus 1040, 3602 AJ/3600 BA Maarssen, The Netherlands
Price:                     EURO 49.90 + P&P when ordered at http://www.geromybv.nl/
Fokker S-14 1/48 scale model kit:
Simultaneously with the book, Geromy has introduced a model kit at 1/48 scale of the production Derwent- powered model. Kit is made of resin with additional photo-etch material and a very detailed decal sheet for various Klu machines. Price is EURO 115 which seems pretty high, but only 150 kits were made, so if you want to buy one you'll have to hurry!
Kit can, just like the book, be ordered at the Geromy website www.geromybv.nl.
Remark:
Next Geromy monograph book will be on the Fokker G-1. Introduction is scheduled for end-2009.
Nico Braas