Nieuport 16- Eduard 1/48 weekend edition
If you really need relaxation during your modeling the best choice is the "Eduard" weekend edition of kits. They are striped from all extra parts, no photo etched, no protective mask, choice of model to finish is always very attractive sample and even camouflage finishing pattern is printed on the kit box. You get accurate model but at very low price. Now it is only on you and modeling skill.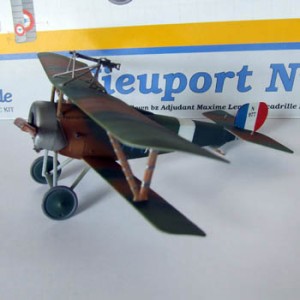 April 2007 release from "Eduard" bring to us one very nice kit- Nieuport 16 in 1/48 scale. This is famous fighter airplane from the First World War and many of famous air aces flew on this type. It was developed from the Nieuport XI but it have more powerful engine. Kit which I have presenting here is the stock number 8426 and it coming as the model of the airplane flown by French ace Adjutant Maxime Lenoir, from escadrille N23, 1916.
All parts coming on two plastic frets of mid brown color and one more additional with clear windshield part. Parts are very precise caste and there is not much work about the cleaning of parts surface before join to the other assembly parts. Not all of the parts have to be used and few of them will leave on the fret after the finishing of kit. Assembly starts from the fitting of all of the interior parts which is placed in very Spartan cockpit interior. This is WW1 era plane and there are not much of details inside. Basic cockpit interior have to be some very pale cream or brown color as well fabric dominate in the surface area. Other details are mostly wood color with some of metallic grey parts. Seat has no belts but simple belts could be made from self adhesive tape in few minutes… like in the old good times. One more detail which could be made and I have add on the kit you see here, is the strengthening wires, which cross connected wooden structure in the interior. Pilot seat is also wooden but I have chosen to make it in dark red, mahogany, and finish.
Only technical problem I have found is in the same engine assembly of the kit. This is consisted of part B29 [shaft], B16 [fuel distributors and engine box] as well A15 [rotary engine]. Problem is first that the fuel pipes have to be removed from the part B16 and cemented from the rear side of the engine, part A15. The same boxes have to be placed on front side. Also part B29 have to be placed from the rear side and one pin is placed in the fuselage and the front pin is going through engine and in the final steps of assembly here would be mounted propeller. But this is not critical problem and this could be converted in some ten minutes- depend how fast your cement could fit the parts.
Rest of assembly going strait with no problem. This is standard procedure when finishing biplane that all airplane have to be painted and then top wing placed on the main model. This is very interesting to note that kit is recommended to be finished in the two colors on topside. This scheme is also published in many of books before. But in last moment, just before I have continue with camouflage painting I have get valuable info from friend and his material have proof that this airplane was actually finished in the three topside colors!!! This gives new light to this kit and importance to whole story about this airplane. So image present maybe the first Nieport 16 painted in the correct camouflage pattern then this is presented before.
This kit from "Eduard" deserves all attention as well it is very easy to build, very attractive and very correct in shape [no matter about the above mentioned small shortcomings]. Decal is for one airplane only and I have built it with pleasure with one week!
Author grant thanks to Gilles Marschal for his invaluable help in this kit project!
Srecko Bradic
Sample kit was provided by Jana Sulcova from "Eduard"