Los Aviones del Moncayo
I have a great pleasure to been in contact with Michel Lozares Sanchez from Spain and to be informed about various very interesting subjects from Spain. Michel is active plastic modeler but also researcher and one of his activity was wreck research on and discovering of their crash site. After couple of years spent on various mountains and crash sites in Spain, he has finally release one book with the subject of the crashed airplanes on the Moncayo Mountain.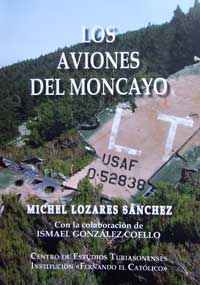 Los Aviones del Moncayo coverThe Moncayo is the highest in the Iberian mountain range (2,373 metres) and has diverse landscapes: from glacier remains on the hilltop to deep forests of beech, kermes oak, oak, pine and juniper trees on its mountain sides. The park forms a part of the Mountain of Moncayo and belongs to the township of Tarazona. Located in the province of Zaragoza and acts as a frontier between the communities of Aragon and Castilla-Leon. This peaceful national park was witness of the couple of airplane accidents happen in the new and far aviation history.
Book is arranged in the chronological order and first subject to be described is the fate of the Republican Tupoljev SB-2 Katyusha bomber. This plane was lost in action in 1937. and crew was Antonio Soto Romero, Luis Gil Longares and Blas Paredes Sarabia. In the museum in Cuatro Vientos is preserved engine recovered on this site and in the book is also presented grave of the airman killed in action in this bomber. Bomber belong to the Escuadra 5. Grupo N 24 3 Escuadrila.
Other subject covered in this book are North American F-100D-20-NA Super Sabre, from 401 TFW pilot by Captain William T. Washburn, North American F-100D-45-NH Super saber from 48 TFW pilot by Captain Walter H. Buck, McDonnell Douglas F-4D-31-MC Phantom II from 52 TFW crew captain Robert L. Morris and 1/Lt Robert O. Ward, McDonnell Douglas F-4D-28-MC from 52 TFW crew major Rex M. Stewart and 1/Lt Daniel W. Whipps, Piper Cherokee PA-28/180 from aero club de San Sebastian crew Miguel Vilches and Ana Maria Sanguillao [passengers was Francisco Javier Gortazan and Juan Francisco Olivares], McDonnell Douglas F-4G-43-MC Phantom II from 52 TFW crew captain Brad A. Logan and major George M. Bourque, McDonnell Douglas F-4E-40-MC Phantom II from 86 TFW crew captain Michael A. Beason and captain James H. McCormick, Lockheed C-130E-LM Hercules from 435 TAW [nine crew and nine passengers on board] and powerede glider Glaser- Dirks DG-600/18M with pilot Leopold Gasmsjager.
Last pages of the book include color profiles of the airplanes crashed and mentioned in the book as well technical data for the airplanes types. Every subject is excellent covered with the archive documents as well images from terrain with detail description text. In the ocean of the various book related to the airplanes type, unit, combat story and so on, this book is very unique to give us story of the final destination of some of the airplanes.
Book info:
Los Aviones del Moncayo
Author- Michel Lozares Sanchez [in cooperation with Ismael Gonzales Coello]
Publisher- Centro de Estudios Turiasonenses
Format- B5 paperback, full color 208 pages
Srecko Bradic
Author grant thanks to Michel Lozares Sanchez for review sample of the book