German flying boats Part 2: 1935-2000
In this second and last part, we will review the German flying boats built over the period 1935-2000. It is surprising to see that basic good designs as the Dornier Wal and Do-24 were even further developed in the eighties using new materials!
Dornier Do-18
Intended as an all-metal successor of the Wal, Dornier introduced for the Deutsche Lufthansa (DLH) overseas routes the Do-18. Just like the Wal the engines were housed in tandem nacelles on top of the wings. Further, the Do-18 was fitted with the characteristic sponsons to improve stability at start and landing without even the need of wing floats! The Do-18V1 prototype D-AHIS made its first flight on 15 March 1935. DLH used it on its transatlantic flights as Do-18E under the name Monsun. Later it was joined by the Do-18's Aolus (D-ABYM), Zephir (D-ARUN), Zyklon (D-AANE) and the Weserflug built Pampero (D-AROZ). Basically, they were not very differentfrom the Do-18V1. Later, an additional machine was supplied as Do-18F (D-ANHR). This machine had a slightly increased wingspan and was used to establish a distance record of 8400 km in 1938. A year later this machine was experimentally fitted with two BMW 132M radial air-cooled engines of 960 hp each as Do-18L. All six DLH Do-18's were later used by the Luftwaffe. Except for the civil version, Dornier and later also Weserflug built additionally a number of military variants. These military machines were fitted with a machine gun in a nose position and another one in a dorsal position behind the wing.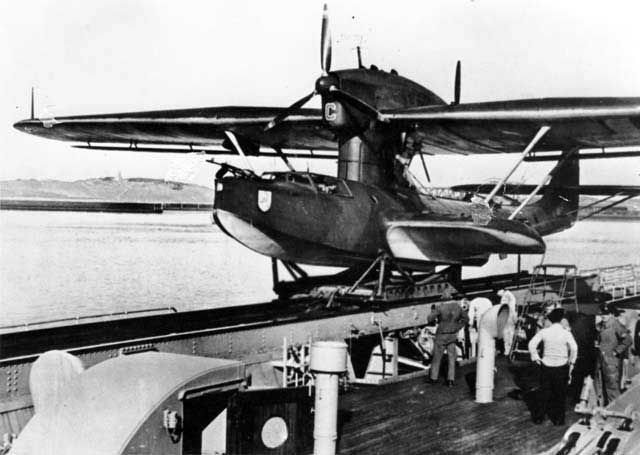 The following military versions were built:
Do-18D long-range patrol plane and light bomber fitted with two Jumo 205C of 600 hp
Do-18G long-range patrol plane and light bomber fitted with two Jumo 205C-4 of 880 hp
Do-18H blind-flying trainer with dual controls and the same 600 hp engines of the Do-18D.
In total, 46 Do-18's of all versions were built at the Dornier works and an additional 131 at Weserflug. The production of the Do-18 was terminated in 1940. Later during the war period, a number of Do-18's were converted into the version Do-18N for air-sea rescue work.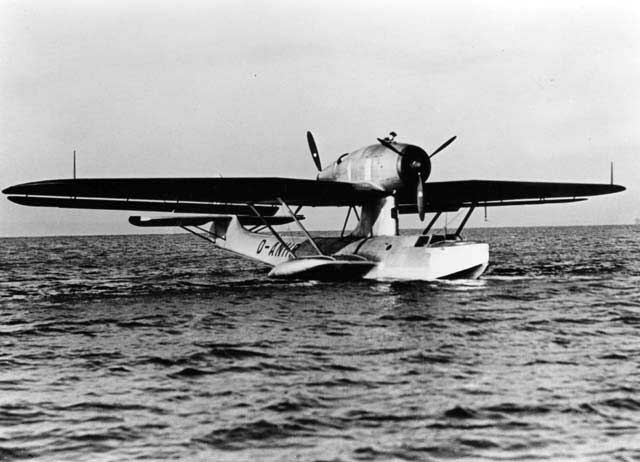 Technical details Do-18E:
Engine: two Junkers Jumo 205C liquid-cooled in-line engines of 600 hp each
Wing span: 23.70 m
Length: 19.25 m
Height: 5.35 m
Max. speed: 260 km/h
Service ceiling: 4200 m with all-up weight of 8500 kg
All-up weight: 8500 kg (at catapult launches, all-up weight could be increased up to 10,000kg)
Dornier Do-14
Designed as an experimental trans-ocean flying boat and ordered by the Deutsche Lufthansa, the Dornier Do-14 made its first flight on 10 August 1936 after a 5-year development phase. The all-metal Do-14 featured many unusual and innovative construction details. It was powered by two BMW VI engines buried in the fuselage centre, coupled by a two-speed gearbox and driving a single large-size three bladed pusher propeller mounted in a pylon on top of the wing. The propeller was driven by means of a large extension shaft. Also the cooling system was very unusual with the engine radiators buried into the upper surface of the wing. They were flush-fitted and hardly create any extra drag. In spite of its very modern layout, the cockpit was still open, although it would have been fully enclosed at later versions. During its extensive test period, the Do-14 was taken over by the rapid development in aeronautical engineering where engines were mounted in the front part of the wing using variable-pitch propellers. In fact, the Do-14 was already outdated when it flew and DLH soon lost interest in the project! Only one single Do-14 was manufactured and flown. As far as known it never flew with any registration although the civil registration D-AGON was assigned to this plane. The engines were dismounted in 1937 and the airframe was finally scrapped in 1939.
Technical details Do-14:
Engine: two BMW VI liquid-cooled in-line engines of 690 hp each
Wing span: 25.00 m
Length: 18.00 m
Height: 7.40 m
Max. speed: 227 km/h
Service ceiling: n.a.
All-up weight: 11,400 kg
Dornier Do-24
To replace the ageing Dornier Wal at the Dutch Marineluchtvaartdienst (MLD) specifications were drawn up for a successor. Intended in particular as a long-range ocean patrol flying boat for use in the Netherlands East Indies, designs for a 3-engine flying boat were submitted by Fokker, Koolhoven and the German Dornier. All three designs showed more or less the same layout with a high-placed wing housing three engines in wing nacelles and various gun positions in the hull. Eventually the Dornier design was selected as the most suitable and the MLD ordered a flying prototype at Dornier for evaluation. After acceptance the machine would be ordered for series production at the Dutch company Aviolanda at Papendrecht. Dornier started with the construction of three prototypes under the type-designation number Do-24. The prototype for the MLD was in fact the Do-24V3. This was also the machine that made the first flight on 3 July 1937. It was fitted with American Wright R-1820 Cyclone air-cooled radial engines of 890 hp each. With civil registration D- ADLP it was after completion of the flight test period flown to the Netherlands later that year where it was put into service carrying the military registration X-1. Under the export designation Do-24K, an additional 28 Cyclone powered Do-24's were built in Germany. They entered Dutch service at the MLD as X-2 to X-29 and X-37 and were all flown over to the Netherlands carrying the same civil registration D-AYWI. The last one, the X-37 was flown over in December 1939. In the Netherlands, construction at Aviolanda started with the X-30, which was put into service on 9 July 1939. The wings were built by De Schelde. An additional five, with registrations X-31 up to/including X-36 followed until the invasion of German troops. All 37 Do-24's were transported to the Netherlands East Indies were they fought a brave but uneven battle against the Japanese forces. With most Do-24's destroyed by the activities of the war, only a handful could finally escape to Australia by early March 1942. During these last flights, one of them, the X-36, had to make an emergency landing at sea and was deliberately destroyed by its crew. The X-24 managed to reach finally Perth. The Dorniers X-1, X-3, X-20, X-23 and X-28 landed safe at Broom harbor. Because they wanted to fly further and there was no accommodation for the crew, all people still were on board when the flying boats were strafed by Japanese fighters. After the attack, all of them were sunk or on fire and there were many casualties. The few Do-24's left were used by the Australians until they were unserviceable. It is remarkable that the hull of one of the Dutch Do-24's is still in use as a luxury cabin cruiser. It is operated from Echuca, New South Wales by Mr. Henry Horsefall still carrying the name Dornier on its bow!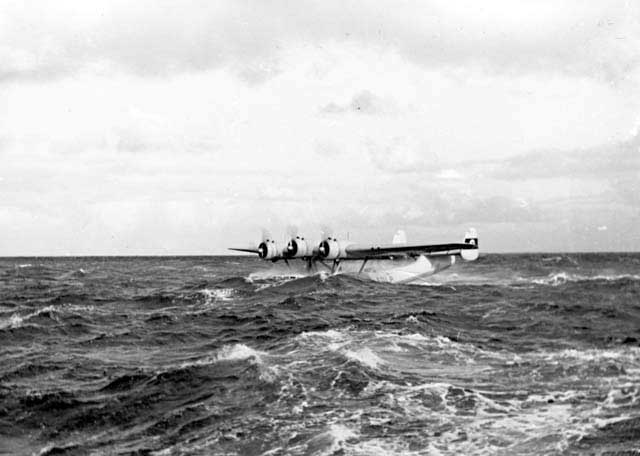 Now, we will go back again to the Do-24V1 and V2. These were built by Dornier as an ocean patrol boat for the German forces fitted with Junkers Jumo 205 Diesel engines of 600 hp each.
The Do-24V1 D-AIBE made its first flight on 10 January 1938; more than a year after the first flight of the Dutch prototype Do-24V3. Since the Blohm & Voss BV-138 was selected as standard 3-engine patrol flying boat, and the German authorities showed no further interest, they were finally transported to Travemünde and scrapped.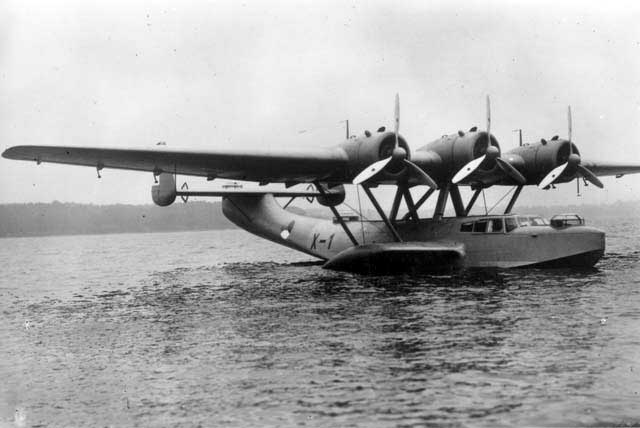 However, during the German invasion and occupation of the Netherlands, the Aviolanda and De Schelde works were captured intact. Under German supervision, the Do-24's still under construction were completed for operational use by the Germans as Do-24N. Aviolanda manufactured a total of 13 Do-24N's which were used mainly for sea-air rescue work (Seenotdienst). They were so successful that Aviolanda built an additional series of a BMW Bramo engined version known as the Do-24K. Eleven Do-24K's were built plus an additional 37 of the further improved Do-24T1. Last Aviolanda series were 58 Do-24T'2. However, not all of these were finally assembled by Aviolanda but some at the Fokker works and in France by SNCAN. All versions were intensively used and even after the capitulation of Germany a number of Do-24's still flew repatriation flights under allied supervision.
However, the capitulation of Germany was not the end of the operational career of the Do-24. The French navy Aeronaval used it operationally after the war until they were phased out and scrapped in 1954. The Spanish navy acquired during the war twelve Do-24's that were used for SAR work until the late sixties! One of them was finally exhibited in the RAF Museum at Hendon in the UK. Later this particular machine was donated to the Military Aviation Museum at Soesterberg, where it still can bee seen in late Netherlands East Indies colors! Sweden operated a Do-24 that was interned when it invaded the Swedish territory. After the war it was claimed by the Soviet Union who sent in 1951 pilots to Sweden to ferry it to Russia. Here, it was used showing the red star! Much more can be said on the operational career of the Do-24; even more than enough to fill a complete book. In fact, this has been done: see literature list!
General conclusion of the Do-24 is that it was one of the most successful and versatile flying boats ever built!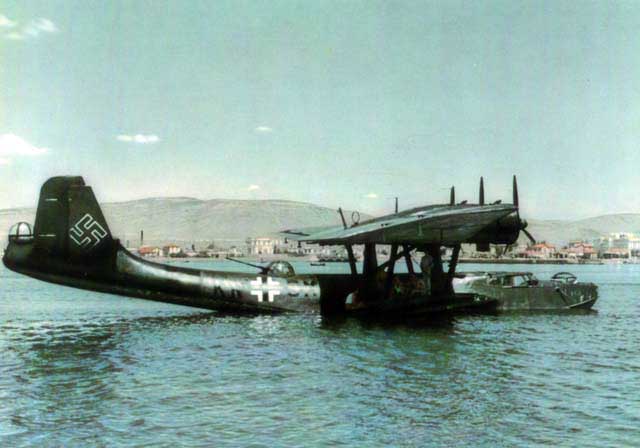 Technical details Do-24T:
Engine: three BMW Bramo 323R2 radial air-cooled engines of 1000 hp each
Wing span: 27.00 m
Length: 22.00 m
Height: 5.80 m
Max. speed: 340 km/h
Service ceiling: 5900 m.
All-up weight: 18,400 kg
WNF WN-11
In the early thirties the Austrian aircraft constructor Theodor Hopfner desgined and built a small 3-4 seat two-engine amphibian for civil use as the Hopfner HV 11. Carrying the civil registration A-141 it was flown for the first time in 1933. It was acquired by the Dr. Oetker food company. The HV 11 was a wooden shoulder-wing plane with a fixed undercarriage for use from land. Two Siemens Halske Sh 14 A radial engines were mounted in streamlined pylons on top of the wing. After the Hopfner works were taken in 1935 over by Hirtenberg it was further developed into an armed military multi-purpose amphibian, although this version was as far as known never completed. After Austria joined the German Reich in 1938, the Hirtenberg/Hopfner aircraft manufacturing was merged with the aircraft construction department of the ammunition works Wiener-Neustadt as theWiener-Neustädter-Flugzeugwerke or WNF.
The civil HV 11 was further developed into the WNF Wn-11. Basically it was not much different from the earlier HV 11. In fact it is not impossible the earlier Dr. Oetker's A-141 was used for the final Wn-11, which was fitted with military German markings and carried the military code PH + IB. Nothing seems to be known on the operational use of the Wn-11 and its final fate. WNF developed a 5-seat version as Wn-11C with more powerful engines and a wing with slightly increased span but nothing seems to be known further about its existence.
Technical details:
Engine: two BMW Bramo Sh-14a-4 of 130/160 hp each
Wing span: 14.10 m
Length: 10.20 m
Height: 3.15 m
Max. speed: 210 km/h (with variable pitch propellers)
Service ceiling: 4000 m.
All-up weight: 2100 kg
Blohm & Voss BV-138
Blohm & Voss shipyards established in 1933 an aircraft division under the name Hamburger Flugzeugbau or HFB. Although aircraft were originally designated with the suffix Ha, this was later changed into the Blohm & Voss suffix BV. One of their first projects, 'Projekt 12' was a long-range maritime patrol flying boat. Designated as BV-138 it was a 3-engine shoulder-wing flying boat with double tail booms and a shoe-like hull, which gave it soon the nickname 'die fliegende Schuhe' (the flying shoe). The BV-138V1 D-ARAK made its first flight on 25 July 1937. It was soon followed by the BV-138V2 D-AMOR. During test flying from the naval air base Travemünde, several shortcomings were found which necessitated a complete redesign of the hull. It is a little bit strange that at this point the Do-24, which flew already earlier and showed to have excellent flight characteristics in combination with a very good seaworthiness, was not selected but apparently this was a political decision! The BV-138A-01 D-ADJE had redesigned hull that was much larger. It flew for the first time in February 1339. In general, the flight and water handling characteristics of the improved design were more than sufficient and the type was put into production. It was built in various sub-types, the BV-138A being followed by the improved BV-138B and BV-138C series. In total 268 BV-138's were built, including the two prototypes. Total production was: 25 BV-138A'2, 14 BV-138B's and 227 of the final version BV-138C. The production was terminated in December 1943. The BV-138's were extensively used in the European war theatre, not only for maritime patrol but also for passenger transport. Some BV-138's were fitted with a circular antenna for minesweeping and with a FuG Hohentwiel radar for anti-shipping operations.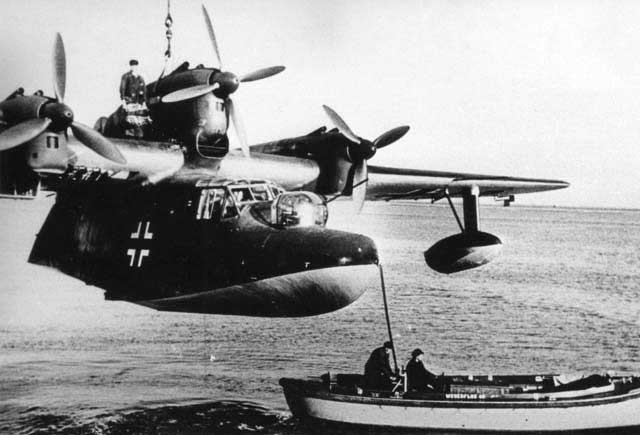 Technical details BV-138C-1:
Engine: three Junkers Jumo 105D liquid-cooled engines of 880 hp
Wing span: 27.00 m
Length: 19.90 m
Height: 5.30 m
Max. speed: 285 km/h at sea level
Service ceiling: 5000 m.
All-up weight: 17,650 kg (maximum)
Dornier Do-26
In 1937 the Deutsche Lufthansa (DLH) ordered six four-engined flying boats for trans-ocean mail transport. These mailplanes were, just like the earlier Do-18's intended to be catapult-launched from ships. Also the new mailplanes were designed by Dornier under type designation Do-26.
The Do-26 was a sleek-looking all-metal machine with a gull-type shoulder wing. The engines were mounted in two pairs in the wings driving tractor and pusher propellers. The pusher propellers were driven by a short extension shaft, which could be swivelled 10° upwards to clear the propellers of water spray during take-off and landing. Unlike the earlier Dornier designs it lacked the hull sponsons. Instead, two fully retractable wing floats were used.
The first Do-26, the Do-26V1, made its first flight on 21 May 1938. On this occasion it was flown by flight-captain Erich Gundermann. This occasion it did not yet carry any registration. Later, it was put into service with the civil registration D-AGNT carrying the name Seeadler (sea eagle). The Do-26V2 Seefalke (sea falcon) made on 23 November 1938 its first flight with flight-captain Egon Fath at the controls carrying the registration D-AWDS. It was soon followed by the Do-28V3 Seemöwe (sea gull) D-ASRA. The Do-26 had a crew of 4 with additional capacity for up to 4 passengers or freight. On board a galley and a lavatory were both present. The potential of the Do-26 was clearly demonstrated when it made on 14 February 1939 a flight to Chile of 10,700 km in 36 hours packed with medical supplies for victims of an earthquake. At the outbreak of the Second World War all three DLH machines were impressed for military service. The three last machines still under construction, the Do-26V4, V5 and V6 were completed for military service armed with a dorsal gun turret and an additional one in the bow. Also known as Do-26C they were used in the Norwegian campaign carrying the military markings P5 # DF, P5 # DG and P5 #DH where they served at the Sonderstaffel Tranzocean under the command of Major von Buddenbrock. The first three Do-26's were all lost during the Norwegian campaign. Do-26V5 crashed at Brest, France during a night catapult start from the launching ship ' Friesenland'. The remaining Do-24V4 and V6 were both used by the E-Stelle Travemünde where they were used amongst others for towing trials of a Do-24. They were also used to fly supplies to German weather stations based on Greenland until 1943. Their final fate remains unknown but most likely they were scrapped after they had become unserviceable.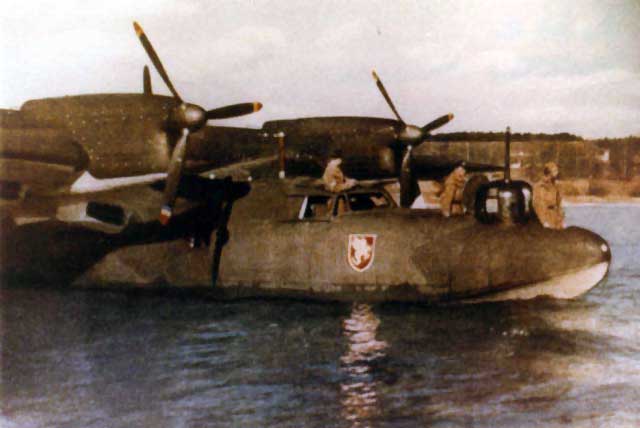 Technical details:
Engine: four Junkers Jumo 205 liquid-cooled in-line engines of 600 hp each
Wing span: 30.00 m
Length: 24.60 m
Height: 6.90 m
Max. speed: 335 km/h
Service ceiling: 6000 m.
All-up weight: 19,000 kg
Dornier Do-214
Initiated in 1938 as a prestigious intercontinental flying boat 'flagship' for the Deutsche Lufthansa under the supervision of the Reich's air ministry, the Dornier Do-214 was a very large eight-engine flying boat of all-metal construction with a capacity of 40 passengers and a crew of 12.
The eight engines were placed in pairs in four nacelles with a tractor and pusher-propeller. In fact, the engine installation was similar to the smaller Do-26 and the propellers of the rear engines could also be raised to prevent them from forming water spray. Intended engine for the Do-214 was the Daimler-Benz DB-606 or as an alternative the Junkers Jumo 218. In fact both engine types still were under development at that time. In 1939 it was reconfigured for military use. Final design work and mock-up construction started in 1939, but the project was finally discontinued in 1942 when work on the prototype was not yet started. To investigate the aerodynamic characteristics of the Do-214 hull, a small wooden glider with the Do-214 hull layout was built by the Schempp-Hirth works at Göppingen as the Gö-8. It was flown from the Boden Lake for some time towed by a fast motor boat before the outbreak of the war by the famous female test pilot Hanna Reitsch.
Technical details:
Engine: eight Daimler Benz DB-606 or Junkers Jumo 218 piston engines
Wing span: 60.00 m
Length: 51.60 m
Height: 14.30 m
Max. speed: 490 km/h
Service ceiling: 7000 m.
All-up weight: 145,000 kg
Weser Flugzeugbau We-271V1
Weser Fugzeugbau Gesellschaft m.b.H was founded in 1934, mainly for license construction of aircraft. Technical leader of this company until his death on 6 July 1939 was Dr. Adolf Rohrbach, who was quite known for a number of flying boat designs. At Weser, Rohrbach's team designed a small all-metal 4-seat amphibian as the We-271. It was built using a single metal box-type main spar for the wing, the same type as used on Rohrbach's previous designs. The We-271V1 was flown for the first time on 26 June 1939 by Weser works pilot Gerhard Hubrich from an airfield strip carrying the civil registration D-ORBE. The first water start was made on 28 June of the same year. Because much spraying water was produced the bow was redesigned to cure this. The flight-testing was terminated on 1 May 1942 after 60-70 flights and the single prototype was handed over to the E-Stelle Travemünde for general use. Its final fate remains unknown and only one prototype was built. Further developments progressed not any further than the drawing board.
Technical details:
Engine: two Argus As 10E radial aircooled piston engines of 270 hp each
Wing span: 15.20 m
Length: 9.94 m
Max. speed: 233 km/h
Service ceiling: 340000 m.
All-up weight: 2900 kg
Blohm & Voss BV-222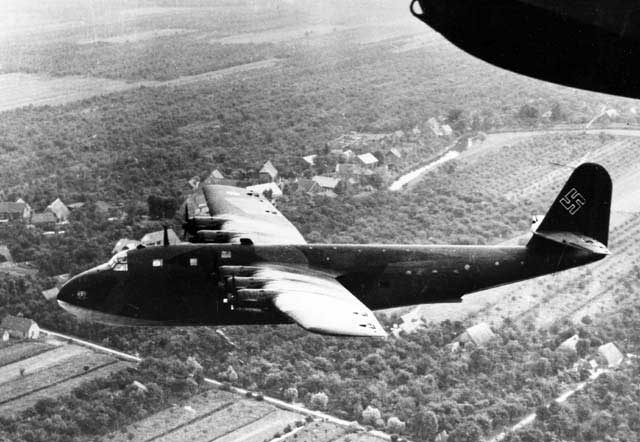 Originally intended as a somewhat smaller trans-ocean flying boat than the never built Dornier Do-214, the Blohm & Voss design team headed by dr. Richard Vogt designed a six-engine all-metal flying boat as the BV-222. The design showed a shoulder wing with six separate engine nacelles and a wing with fully retractable floats. With a 'luxury' capacity of 24 passengers it was intended for operation by the Deutsche Lufthansa who ordered in September 1937 three of these flying boats. The first of these, the BV-222V1, made its first flight on 7 September 1940 carrying the civil registration D-ANTE. However, at the outbreak of the war the whole BV-222 program was put under military supervision and the BV-222 never flew for the DLH. Instead, it was put in military service at Lufttransportstaffel 222 for transport of troops and supply to the Mediterranean's. In fact, the long-range test flights with the BV-222V1 were normal military missions! Also the BV-222V2 and V3 were put into service as military transport planes. After some encounters with enemy fighters, all BV-222 received gun installations at several points. Except for the three original DLH machines, a further six were built as BV-222V4 up to/including BV-222V9. A further four of production series were built as BV-222C-10 up to/including BV-222C-013. Also these were used operationally during the war. Because of lack of raw materials, the BV-222C-014, -015, -016 and -017 were never completed. The flying boat was a big and attractive target for allied fighters and five of them were shot down or sunk at their moorings. By the end of the war, some were also destroyed by their crew. Three BV-222's were captured by Allied forces: BV-222C-011, -012 and -013. C-011 and C-013 were flown to the USA and eventually scrapped. BV-222C-012, captured in Norway, was flown over to the UK and was tested for some time at Calshot naval air station, but also this machine was finally scrapped in 1947.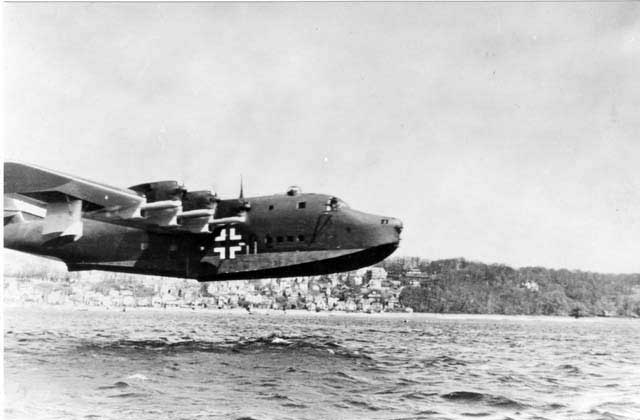 Technical details (V-series):
Engine: six BMW Bramo Fafnir 323R-2 nine-cylinder air-cooled radial engines of 1200 hp each
Wing span: 46.00 m
Length: 36.50 m
Height: 10.90 m
Max. speed: 310 km/h
Service ceiling: 7300 m.
All-up weight: 45,600 kg maximal
Blohm & Voss BV-238
In January 1941 the RLM requested Blohm & Voss to design a new very large flying boat. Originally, it was planned with four Junkers Jumo 223 diesel engines of 2500 hp each, but when these were not available, the Daimler Benz DB-603 was selected. However, since these had a lower power, six of them were now needed. Largely based on the already existing smaller BV-222, the new flying boat received the type designation BV-238. It was not only intended for naval transport of troops and supplies, but also for maritime patrol work. For anti-shipping missions it could carry bombs, torpedoes and a variety of other items like flares and depth charges. The BV-238V1 made its first flight in the spring of 1944. It was destroyed by Mustang fighters in the last days of the war when it was moored up on the Schaalsee (Lake Schaal) east of Hamburg. By this time the BV-238V2 was nearly completed and the BV-238V3 construction well advanced but the capitulation of Germany made an end on this. A land-based version was known as the BV-250, but also here the war was ended before a prototype was constructed.
For early flight-testing a small quarter-scale manned model was made fitted with six 30 hp ILO two-stroke engines. It was built by FGP, the Flugtechnische Fertigungsgemeinschaft Prag (Flight-technical Assembling community Prague) as the FGP 227. Although it was completed in 1944, it was damaged during a rail transport accident and eventually it never flew!
Technical details:
Engine: six Daimler-Benz DB- 603A liquid-cooled in-line engines of 1750 hp each
Wing span: 60.17 m
Length: 43.50 m
Height: 13.40 m
Max. speed: 425 km/h
Service ceiling: not stated
All-up weight: 95,272 kg
RFB-Lippisch X-113 and X-114
After the capitulation of Germany, the well-known German aviation designer Dr. Alexander Lippisch went to the U.S.A. to consult Convair and NACA with their delta-wing fighter development. His work was based on a wartime design for a small ramjet powered delta-wing fighter that was tested as the Lippisch DM-1 glider. The DM-1 was transported to the USA and extensively tested in a wind tunnel. The project for which Lippisch provided his contribution finally resulted in the Convair XF-92. As a next project Lippisch started in the fifties investigations in ground-effect machines. Fitted with a reversed delta wing, it would create an air cushion under the wings that would enable the device to skim just above the water using minimal power output only. This idea became later known as the WIG-concept, where WIG stood for Wing In Ground. This idea was tested in his X-112 design, a small singe-seat craft fitted with a 25 hp engine and built by Collins Radio. Carrying the civil registration N5961V it was successfully 'flown' in 1963.
After these US trials, Lippisch returned to Germany, where another larger proof-of-concept machine was built as the single-seat Lippisch X-113. It was built by Rhein-Flugzeugbau, a subsidiary of Fokker-VFW. Fitted with a 40 hp Nelson H63-CP four-cylinder piston engine, and carrying the civil registration D-9568, it made its first flight in October 1970 from Lake Constance. It was highly successful and the single seat research plane was even capable to fly out of its ground effect up to an altitude of 800 m. However, this needed full power and had excessive fuel consumption as penalty. Based on the X-113, a larger six-seat amphibian version was built as the X-114. It was fitted with a Lycoming piston engine driving a shrouded pusher propeller. It was flown for the first time in April 1977 under a military contract of the German government. It was extensively tested carrying the military markings 98 # 29, but it failed to attract further orders. After the plane crashed due to a pilot error, further work was terminated. Plans for much larger military transport and patrol versions never went beyond the drawing board.
Technical details:
Engine: Lycoming 10-360 4-cylinder piston engine of 200 hp
Wing span: 7.00 m
Length: 12.80 m
Height: 2.90 m
Max. speed: 200 km/h
Service ceiling: 800 m
All-up weight: 1750 kg
Dornier Do-24 ATT
Based on the airframe of a Spanish navy Do-24 from 1944 that was used operationally until 1970, Dornier constructed in the early eighties a modernised technology demonstrator known as the Dornier Do-24 ATT, where ATT stood for Amphibien-Technologieträger (Amphibian technology carrier). The hull and tail assembly were roughly taken over from the original airframe, but the wing was of totally new construction with a so-called super-critical profile. It was also modified to carry a fully retractable wheel undercarriage. Further, it was fitted with modern turboprop engines and up-to-date avionics. In this form, the modernized Do-24 made its first flight on 25 April 1983 from the Dornier Oberpfaffenhofen airfield with company test pilot Dieter Thomas at the controls. At that time it was sprayed in a very attractive white-dark blue color scheme, carrying the civil registration D-CATO. In general, it flew very well, but apparently Dornier had fully misjudged the market for such a type of plane, as there was no further interest for an improved production version. It was donated to the Deutsches Museum, but in 2003 it was acquired by Iren Dornier, a grandson of Claudius Dornier. He transported the plane to the Philippines where it was completely restored into flying conditions in an aluminum color scheme. In February 2004, Iren Dornier and his team made with the Do-24ATT a world cruise to raise money for beneficial funds. The Do-24 was regular front-page news until it returned to Germany. Here, it is still used for promotional and pleasure flying as well as for air shows.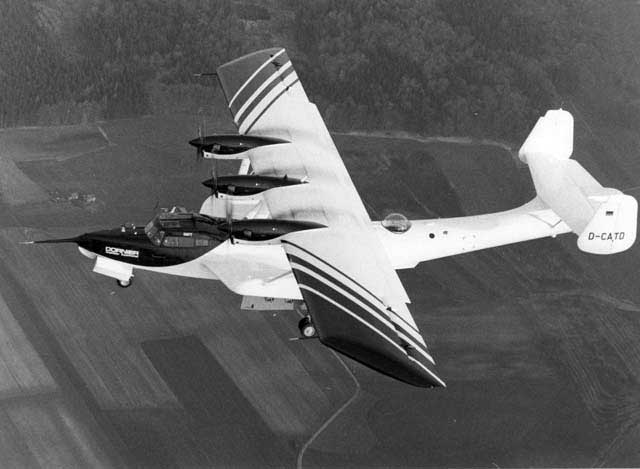 Technical details:
Engine: 3 Pratt & Whitney PT6A-45B turboprops of 839 kW / 1125 shp each
Wing span: 30.00 m
Length: 21.95 m
Height: 6.68 m
Max. speed: 428 km/h
Max. take-off weight/land: 14,000 kg
Max. take-off weight/water: 12,000 kg
Claudius Dornier Seastar
Prof. Claudius Dornier jr, the son of the founder of the Dornier aircraft works Claudius Dornier, started in the early eighties with the construction of a small multi-purpose amphibian with a capacity of up to 12 passengers. In fact, it had more or less the same layout as the famous Dornier Wal from the thirties! It had the same type of fuselage sponsons for optimal stability in the water and the same type of high-wing on struts with tandem engines driving both tractor and pusher propeller. For the rest, similarity with the earlier Dornier product ended since it was of a very advanced reinforced glass-fibre construction and fitted with two modern turboprop engines. Funded with family capital and without any further commitments with the Dornier works, although it was also based at Oberpfaffenghofen, Claudius Dornier founded his Claudius Dornier Werke for production of this attractive looking plane. The proof-of-concept model, named the Seastar CD1, made its first flight on 19 August 1984 with the civil registration D-ICDS. It appeared on the Paris Airshow of the next year. As a next step, a second Seastar was built as the CD2. This machine was intended as an example of the final production model. The CD2, carrying the registration D-ICKS made its first flight on 24 April 1987. It was also shown at the Paris Airshow of that year, as well as two years later.
Claudius Dornier gained quite a lot of interest for his Seastar, which resulted in options for more than 125 production Seastars. However, the untimely death of Claudius Dornier and the lack of sufficient financial investment and guarantees killed the project and production was never realized.
After the death of Prof. Dornier, the Seastar CD2 and all knowledge around this advanced design was secured in a new company founded in 1991 as Dornier Seastar AG. The Seastar CD2 is still kept in an airworthy condition and it is currently used for pleasure flights and airshow work. Dornier Seastar AG still offers the plane as a utility amphibian, but there are no direct plans for any follow-on production models!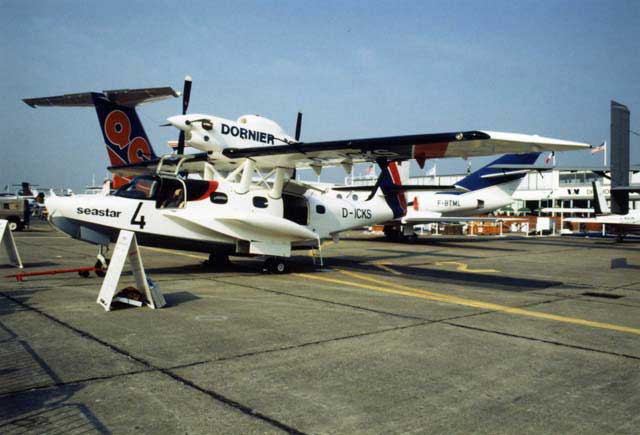 Technical details CD2:
Engine: two Pratt & Whitney PT6A-135A turboprop engines of 650 Shaft hp each
Wing span: 17.74 m
Length: 12.90 m
Height: 5.28 m
Max. speed: 345 km/h
All-up weight: 4200 kg
Nico Braas
References
-Fred Gütschow, Die deutschen Flugboote, Motorbuch Verlag 1978
-Hugo Hooftman, Van Farman tot Neptune Part 1, La Rivière & Voorhoeven, the Netherlands 1964
-Pieter van Wijngaarden & Prudent Staal, Dornier Do-24 – Herinneringen aan een legendarische vliegboot, Uitgeverij B.V Bonneville, Bergen, The Netherlands 1992
-David Oliver, Wings over water, Greenwich Editions, UK 2003
-William Green, War planes of the Second World War, Vol. 5 Flying Boats. Macdonald, London, UK 1962
-Anonymous, German aircraft in detail -XII. The Dornier Do-214, The Aeroplane Spotter, May 17, 1947
-Hans Hartmann, Vogt's Viking, Aeroplane Monthly, July 1994.
-Eric Brown, Das Grossflugboot Wikin, Air International, April 1981
-Nowarra, Heinz, Luftgiganten über See. BV 222-Wiking-BV 238 Waffen-Arenal Band 63, Podzun-Pallas Verlag GmbH, 1980
Recomended to see German Flying Boats Part 1