1
« on: December 10, 2018, 08:51:52 AM »
Hello all

At the end of the 1950s (maybe 1959) and available in France in 1960, Lindberg issued their first big kit of a French airplane : "Her Majesty Caravelle" originally Sncase SE-210 Caravelle". The kit is in 1/96 scale and it's a very complete but complex kit, relatively difficult to build. It's to be noted that the Heller's kit in 1/100 scale was available for Christmas 1957.
The drawing of the box of Lindberg's is due to Ray Gaedke and is one of, if not the best picture of the entire Lindberg range of airplane kits.

(To see one kit built :
http://www.letletlet-warplanes.com/forum/makete-aviona-aircraft-modeling/sncase-se-210-caravelle-maquette-linberg-au-196/
)
Some time later the same kit was issued under American colors and named SNCASE SE 210 Caravelle "Jet Mainliner" of the United Airlines. I never saw this box in France and I found it in the USA... :
Two boxes for a a "little" Caravelle were also issued by Lindberg in 1/178 scale, the first one being present in the 1958 catalog is of the "Cellovision" type under ref.: 454:49 (49 = $ .49). Artwork is by Ray Gaedke.

The second box (Ref.: 411-60) which is in the 1964 catalog has another artwork due to Tom Morgan (T.A.M.) and represents Paris by night seen from the altitude :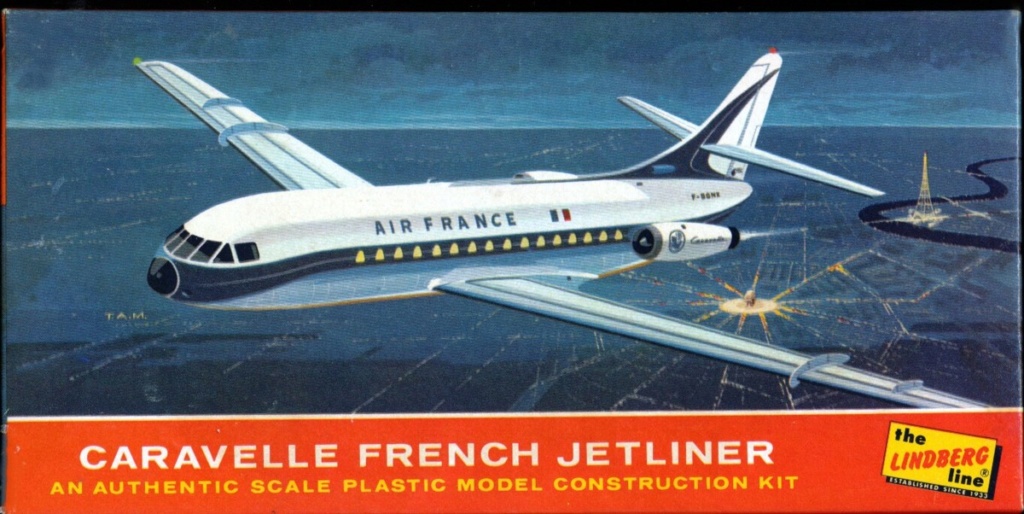 The notice is the same as the one printed directely on the back of the "Cellovision" box :
Jicéhem