Fokker E.V 1/48 Eduard Weekend kit 8480
The Fokker E.V was a German airplane of the Great War who saw action in summer of 1918. The first production E.V aircraft were shipped to Jasta 6 in late July. The new monoplane was also delivered to Jasta 1, Jasta 19, Jasta 24 and Jasta 36. Leutnant Emil Rolff scored the first kill in an E.V on August 17, 1918, but two days later he was killed when his aircraft's wing collapsed in flight. After few accidents due to wing failure further deliveries were stopped but were continued in October the same year, when it was too late for this airplane to have some significant impact in aerial combats. Nevertheless this machine had significant role in history of aviation and total of approximately 380 were built. It is considered that the last aerial victory in World War One was conceded with this airplane. Most of the Fokker E.V were destroyed according to the terms of signed peace treaty but some samples were taken as a war trophies by Holland, Italy, Japan, the United States, and England. It is interesting to note that the Poland used few of this captured warplanes against Soviet forces in the Polish-Soviet War of 1919-1920 and the first kill for the Polish Air Force was conceded on Fokker E.V.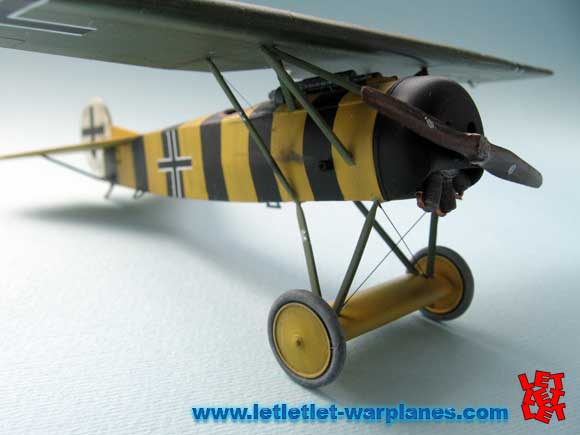 Theo Osterkamp was born on 15 April 1892 at Düren in Rheinland. He fought in World War 1 as a naval pilot operating over the Western front. He commanded Marine-Feld-Jagdstaffel 2 from 15 October 1917. Osterkamp was to record 32 victories in that conflict. Leutnant Osterkamp was awarded the Pour le Mérite on 2 September 1918. Between the wars, Osterkamp was much involved in the formation of the new Luftwaffe setting up Jagdfliegerschule 1. Theo Osterkamp was credited with 38 victories. He recorded 32 victories during World War 1. He recorded two confirmed and at least four unconfirmed victories in World War 2, all claimed over the Western front. Osterkamp survived the war but died on 2 January 1975 at Baden-Baden.
Building the Eduard kit
When I received Eduard's kit at the first look I was impressed. Beautiful model moulded in Olive plastic with outstanding and precise details and the choice of colours and markings absolutely wonderful, you got to love this bumble bee looking airplane.
I began building this kit from the cockpit, the level of details provided by Eduard is excellent, some instruments were given as well printed decals and they perfectly fit the matching plastic parts. Wooden surfaces were first painted in Model Master wood colour and after the drying time they were protected with a coat of Model Master Acryl flat varnish that was hand brushed with almost dry brush. After drying time I applied a mix of oil artistic colours in brown shades and at last I drybrushed them with a brush silked in White Spirit thinner to achieve the wood effect. Simulating the wood effect on propeller was done in the same manner slightly changed to achieve laminated wood surface. First I painted the propeller in same MM Wood colour and then masked it with tape stripes to get the layers. After airbrushing the unmasked part with MM Brown colour and removing the masks I used the same method like on cockpit surfaces. All "wood parts" were then sealed with few coats of Klear. Cockpit fits well and once it is finished it looks really great, the only thing I added is a seat belts made of tape.
Once the cockpit is done fuselage can be assembled, and it went well with almost none putty required, Fuselage details are good there is a nice simulated structure details underneath fabric, and on decal sheet Eduard provided nice stiches that are applied after painting the fuselage. Eduard provided two wings for this kit both moulded well with nice engraved lines. Both vertical and horizontal tail surfaces look perfect with excellent details. Engine parts are really wonderful and the only thing I had to do before painting is to clean some minimal flash that was present. I painted the engine with MM Aluminium metaliser and buffed it when it dried. After a coat of Klear I applied standard black and brown wash and drybrush at the end using Aluminium colour.
Theo Osterkamp's E.V plane colours are still very doubtful since there is no photo of this machine. I decided to paint the wing using White Ensign RLM 62 colour and to apply streaky Fokker factory camouflage on top of the wing using White Ensign RLM 80. Fuselage and tail sections were preshaded with black colour and then airbrushed using White Ensign RLM 04 colour. After everything was dried I masked areas to remain in yellow vertical stripes and then airbrushed Black.
When all painting was finished it was time to assemble subsections and glue struts to the wing and fuselage. It all went well without any fuss so the kit was airbrushed with few coats of Klear and it was ready for decals. Decals are thin and well printed and when they are glued to the kit they look great and realistic. It seems that Eduard included some decals (mostly stencils) that are not to be used on this kit.
Although there are suspicions that Osterkamp flew just few flights on this airplane opposing to those that believe that he flew on E.V more than that I decided to weather my kit according to believes that Osterkamp flew more than just a few flights on this machine, therefore my E.V kit looks well served.
Rigging was done using the stretched black sprue, and it was done in literally half an hour.
Eduard kit is great and it is a real weekend project, looks great on a shelf and I must recommend it to all fellow modellers that are interested in World War subject. Many modellers (including me) are afraid of rigging, but this kit offers a great result with minimum time and is great to practice your rigging skill. I enjoyed building this kit and I can recommend it to all modellers no matter how skilled they are. You can buy it direct here.
This kit is highly recommended.
Darko Mladenovic
Sample kit is provided by Jan Zdiarsky from Eduard